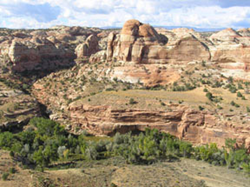 Being out at night is a key element of experiencing nature that we often forget.
Salt Lake City, UT (PRWEB) June 29, 2015
Capitol Reef joins Big Bend and Death Valley National Parks and Chaco Culture National Historic Park as some of the first national parks to be recognized by the Association. All share having a remote location away from any major city and lights. All these parks have been featured in Naturalist Journeys tours, on which expert guides help interpret natural history including geology, birding and biology.
Naturalist Journeys' owner and lead guide Peg Abbott is excited about the Dark Sky designation and it inspired her to include new nighttime activities on this year's Southwest Parks Sampler tour. Abbott says, "The opportunity to go out into nature at night is not available for many of our travelers. It's just fantastic to see the reaction of someone who has never gazed at truly dark skies. By taking a picnic dinner along on a sunset tour with local guides, travelers can linger into the dark sky time to witness vivid constellations, planets, nebulae, and more."
The park produced a poster to invite dark sky viewing that featured two of its most prominent geologic monoliths, stating "Half the Park is After Dark at the Temple of the Sun and the Moon." These features are encountered on the Cathedral Valley loop drive, a gravel road far from the lights of the small town of Torrey that flanks the park. Another scenic road south of the Fremont River offers paved access to areas of next to no light – other than the brilliance of stars. Abbott says, "The parks give us safe places to explore and marvel, and being out at night is a key element of experiencing nature that we often forget."
Spending time under dark skies adds a new dimension to Naturalist Journeys' popular Southwest Parks Sampler. Guide Pat Lueders carries a spotting scope handy for finding birds such as California Condors, Golden Eagles, Canyon Wrens, and Pinyon Jays during the tour. It has also proved handy for honing in views of Zion National Park's Desert Bighorn Sheep, and she uses it for showing people cultural features such as petroglyphs and granaries. In addition to experiencing a great blend of birding and natural history, this year's tour participants can enjoy the new experience of celebrating dark skies on a night drive in Capitol Reef, and a night walk on the South Rim of Grand Canyon National Park. With luck, travelers can spot a Great Horned Owl hunting by night as well.
By definition, an international dark sky park is a location of exceptional nighttime beauty, dark skies education, and preservation of the nighttime environment.
More about International Dark Skies and the national parks at http://www.darksky.org/international-dark-sky-places/about-ids-places/parks.
More about the recent designation for Capitol Reef National Park: http://www.nps.gov/care/learn/news/capitol-reef-national-park-receives-international-dark-sky-designation.htm
More about this ten-day adventure that explores five national parks and other regional highlights: http://naturalistjourneys.com/jcalendar/jc_SWparks15.htm
More on Naturalist Journeys
Naturalist Journeys LLC, a top birding and nature tour company, offers specialty small group tours and travel worldwide, from the western U.S. to Alaska, Hawaii and Florida, Costa Rica, Panama, safaris in Africa and more. Naturalist Journey's guided nature and birding tours feature expert guides with decades of experience in birdwatching, travel photography and other forms of eco-tourism. Naturalist Journeys also offers hiking and adventure travel tours in many national parks and wildlife reserves, including the Galapagos, Antarctica and the Amazon.