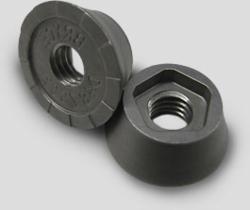 . "Reaching a million pieces this month tells me our customers are confident in this product and as nuts about this thing as we are." Bryce Campbell, CEO and President of Bryce Fastener Inc.
Phoenix, Arizona; December 13, 2012 (PRWEB) December 18, 2012
The new high security nut known as the Bryce Penta-Nut™ has recently become the fastener of choice for global telecommunications companies, utility companies, military, manufacturers, state governments, and others with sales reaching a record one million pieces this month. Not for retail sale, patented and manufactured exclusively by Bryce Fastener, Inc. the unique design of the Penta-Nut™ repels locking pliers and other tools, making it one of most tamper-proof nuts in the world.
The Penta-Nut™security fastener is used in place of other nuts for most applications, but four features make it unlike any other tamperproof nut in the industry. The conical shape of the 316 stainless steel fastener is made to repel locking pliers and other tools. The pentagon shape is on the inside of the nut rather than on the outside and is designed to reject all tools except for the matching installation tool made by Bryce. The Penta-Nut™ and its matching tool are tightly controlled and will never be sold retail. The company only sells to customers or distributors for high security applications. When tested by Atlas Testing Labs, the unique Penta-Nut™ showed a higher yield strength than other standard screws and nuts in common sizes. Finally, the specialized grip built on the underside of the nut holds the nut tighter than any lock washer.
Bryce Campbell, President and CEO of Bryce Fastener said they originally designed the Penta-Nut™ for a customer in need of a high-torque solution to secure large motors on boats. "We drilled and tapped the first few thousand by hand. It exceeded the client's expectations and the orders increased so we had to develop specialized production machinery. Word about the nut spread quickly and we've been increasing our capacity ever since" says Campbell. "Reaching a million pieces this month tells me our customers are as nuts about this thing as we are" he joked.
Penta-Nut™ is manufactured in the U.S. by Bryce Fastener, Inc. and can be made to meet almost any specification. Founded in 1972, Bryce Fastener, Inc. designs and manufactures custom bolts, nuts and screws for security applications. Recently applauded by past U.S. President Bill Clinton, Bryce serves customers in industries such as solar, electronics, retail, financial, construction, military, government, utilities, corrections and more.
For more information visit: http://www.brycefastener.com