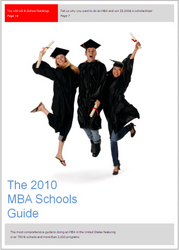 In 2005, a little more than 4,000 students from India applied at B-schools in the US. This year, that number will rise to 25,000. That's incredible growth - even from the most aggressive estimates
Sacramento, CA (PRWEB) June 24, 2010
It looks like B-schools are slowly losing their sheen - at least among US citizens. The number of applications from within the country shrinked by as much as 8% in 2009 leaving B-schools in a tizzy as they struggled to fill up seats.
Enter India.
In 2009, some 22,000 students applied at B-schools across United States - a sharp jump from just 4,000 in 2005. This year, over 25,000 students from India are expected to apply at more than 500 graduate B-schools across the US.
"It's a very interesting phenomenon", said Manan Pandya - Founder and Business Manager of MBAfaqs, a company that provides free online US MBA counseling to students in India. "There is virtually no effect that the economic recession has had on Indian students contemplating foreign MBA education. In the US however, we are seeing students delaying their ambitions to get the once coveted MBA degree."
Even with so many students, only a handful of B-schools in the US have really begun to show marketing power in the country, while many rely on channel partners to educate potential students and market their institutions in India.
MBAfaqs is taking a step forward in helping US B-schools showcase their programs to students in India. The company is in the midst of publishing The 2010 MBA Schools Guide - a comprehensive directory covering more than 750 schools and over 2,000 graduate business and management programs in the US.
"Try looking for a complete list of B-schools in the US. I tried and couldn't find it", said Narang Jain - an aspiring student in Bangalore, India. "Everybody tries to force-fit you somewhere, because that's where they have commercial interests."
MBAfaqs which will publish and distribute FREE paperback and electronic versions of the directory said that they expect to reach out to around 170,000 aspiring students and their parents in India. "The 2010 MBA Schools Guide is backed by a robust 165,000 dollar marketing strategy to ensure that we reach out to our target audience and have them opt-in to recieve the information that we're giving" added Richard Boone - Head of PR and Marketing for MBAfaqs.
"Students in India have a right to information. Information that will help them make an informed decision on which B-school they should apply at. Information that is unbiased and does not restrict the choices that he or she can make. The 2010 MBA Schools Guide will give exactly that" said Manan, at a concluding note.
In today's world where information is the key to decision making - MBAfaqs seems to be putting it's best foot forward. The company has already recieved 35,000 pre-registrations from students across the country to recieve the directory as on June 20, 2010. And this number is only set to rise as the launch date approaches.
Download media kit. Click here!
###