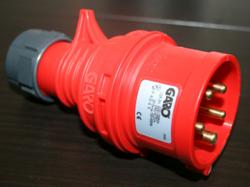 IES announce the recent launch of a new range of BS EN 60309 plugs and sockets from GARO
(PRWEB UK) 10 July 2012
UK-based IES has announced the launch of a newly updated range of BS EN 60309 plugs, sockets and connectors from Swedish manufacturer GARO AB. Bristol-based IES, which celebrates 21 years in business this year, are a UK distributor for GARO industrial plugs and sockets. As well as standard plugs and sockets, the redesigned range includes advanced RCD protected sockets and interlocked sockets. There are also interlocked switched RCD sockets and appliance inlets. The launch represents an important enhancement to the existing range of plugs and sockets, other electrical products and electrical services.
The new plugs and sockets bring a long-established range up to date
The industrial plugs and sockets bring a proven range up to date. This means it can still compete effectively in the challenging UK industrial electrical equipment market. According to IES electrical manager, Andy Coombes, the new products offer several important benefits for electrical contractors and their customers. 'The plugs and sockets come in a screw-less design with snap and twist BS EN 60309 connectors. There's also a new lock-ring cable fastener on the back of each unit. Together, these make installation quicker and easier for busy contractors.'
UK customers like the features and benefits
As well as being faster to fit, and even more robust than the products they replace, the new range of industrial sockets and plugs was designed for faster cable termination. Aesthetics and feel are also important for utilitarian electrical components such as panel sockets. That's why the redesigned GARO industrial plugs and sockets are manufactured with a sturdier design to reinforce their quality feel.
According to Coombes and his sales team, UK customers like the new user benefits. 'Since launching, we've had very favourable comments about the improved, more rigid, structure of the plugs and sockets. Customers have also responded well to our pricing. In fact, the new GARO products compare well to many more expensive products.'
Optimism about the future
It's not surprising then, that since launching the range, IES reports positive market feedback. Although it's still early for a product that replaces a range that's been a GARO stalwart for nearly four decades, Andy Coombes is optimistic: 'Since launching in Sweden, sales have increased over there. I expect the same here.'
A big help in the competitive industrial electrical sector
Summing up the role of the updated BS EN 60309 sockets, plugs and connectors in his future plans, Coombes says: 'We first heard about the updated range last September, before launching it in January 2012 alongside our other electrical products. GARO product has always been good, but the new industrial plugs and sockets have improved on this. From inline connectors to BS EN 60309 surface sockets, the redesign was worth waiting for. It will be helpful in the competitive UK industrial electrical sector as we build on our strong relationship and boost UK brand awareness for GARO.'
[Resource box]
IES are more than just an electrical plugs & sockets distributor. As well as its expertise with this product, the IES electrical division supplies other electrical products and services including the following:

Socomec enclosed switchgear
Bespoke special electrical builds
Caravan hook up units
Metal cabinets
GRP & plastic enclosures
Cable grips
RCD's and MCB's
As its customers already know, these capabilities make IES the perfect partner for organisations seeking a wide range of high-quality electrical components.
To learn more about the GARO range of BS EN 60309 plugs and sockets, or other electrical products, please contact IES.
###