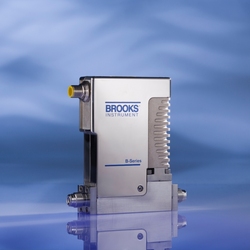 The B-Series sets a new standard in gas mass flow control
Hatfield, PA (PRWEB) March 11, 2009
Brooks Instrument, a world-leading flow measurement and control provider, is pleased to release the B-Series mass flow controller, a totally new family of mass flow products designed to be insensitive to fluctuations in pressure and temperature. Built on a standard 1.125-inch wide platform with a powerful user interface and local digital display, the B-Series provides a compact flow measurement and control solution which eliminates the need for costly temperature and pressure control devices and systems.
"The B-Series sets a new standard in gas mass flow control," stated Steve Kannengieszer, Director of Marketing, Mass Flow Products at Brooks Instrument. "Whether you are flowing gas to a CVD chamber, chemical research reactor, fuel cell test stand, or any other important flow control application, the quality of your results are only as good as the performance of your mass flow controller. The B-Series was designed to minimize all sources of gas flow inaccuracy, giving our customers outstanding accuracy, extremely fast response, exceptional stability, and robust resistance to flow variation due to pressure and temperature fluctuations."
Immune to Pressure and Temperature Fluctuations
The B-Series is a pressure- and temperature-insensitive device. The mass flow controller actively measures line pressure and adjusts the control valve to virtually eliminate actual flow and flow signal changes as a result of pressure fluctuations. In addition, the output of every B-Series mass flow controller is characterized over the full operating temperature range of the device allowing superior measurement and control accuracy regardless of process or ambient temperature conditions.
Unique Advanced Diagnostics
The B-Series incorporates sophisticated internal self-diagnostic routines that continuously check the health of the device. In the event of a diagnostic fault, an alarm code flashes on the user interface. An easy to use service port provides additional diagnostic capability, minimizing the need to remove the mass flow controller from process service.
Visit BrooksInstrument.com for more information about the Brooks B-Series mass flow controller.
About Brooks Instrument
Brooks Instrument is a world-leading flow measurement and control instrument provider, with headquarters in Hatfield, PA USA, and manufacturing locations, regional sales, and service offices in the Americas, Europe, and Asia. Brooks' products include glass and metal tube variable area meters (rotameters), thermal mass flow meters and controllers, Coriolis mass flow meters, controllers and transmitters, pressure control products, magnetic level instruments, and a variety of flow accessories. Since its founding in 1946, Brooks' products have supported the growth of dozens of industries from biopharmaceuticals, oil and gas, fuel cell research and chemicals, to medical devices, analytical instrumentation, semiconductor manufacturing, and more. Throughout the world, Brooks customers rely on a highly trained network of local representative specialists to help solve unique or unusual flow applications.
Brooks is a mark owned by Brooks Instrument, LLC. All other marks are the property of their respective holders.
###