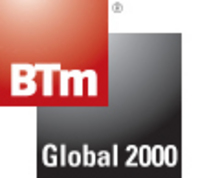 With the varying degree of management maturity that exists in the industry today, we felt it was important to provide our customers with a wide range of offerings supporting their maturity advancement toward convergence, innovation, and agility. By providing both packaged Solutions and a la carte Services, customers have a choice on how best to begin their journey
Stamford, CT (PRWEB) August 26, 2008
BTM Corporation announced today the release of version 3.0 of BTM Global 2000(TM) Convergence Solutions to institutionalize management capabilities that drive innovation, enhance agility and improve financial performance. In addition, the Company also unveiled a new set of Capability Services to provide customers with additional flexibility in advancing management maturity.
BTM Global 2000 Convergence Solutions v3.0 target business and technology executives in the Global 2000 market segment and include:

Business Agility - increase ability to sense and respond to rapidly changing market opportunities
Governance & Investment Management - improve visibility and control over technology investments
Extended Enterprise - adapt to the evolving global knowledge economy
Innovation & Growth - establish continuous creation of competitive advantage
Service Delivery Optimization - deliver consistent, measurable and value driven services
Shared Services - consolidate and streamline functions to ensure delivery
Strategy Execution - consistent execution and measurement of business strategy
These improved solutions continue to utilize the characteristics defined by the BTM Maturity Model(TM) to assess organizational maturity rapidly and leverage BTM's pre-defined management framework, software and templates - collectively, the BTM 360(TM) product suite - to execute a concept to value lifecycle for customers.
BTM Capability Services v3.0 provide services for organizations that want to assess, implement and optimize the management of business and technology for improved financial performance including:
Assessment and Roadmap - assess and plan for maturity advancement
Value Analysis and Identification - identify and quantify sources of value for improved financial performance
Capability Implementation - accelerate design, implementation and maturity advancement
Outsourcing and Value Delivery -outsourced management of capability processes and analytics
On-Demand Experts - provide advisory, interim management and support
"With the varying degree of management maturity that exists in the industry today, we felt it was important to provide our customers with a wide range of offerings supporting their maturity advancement toward convergence, innovation, and agility. By providing both packaged Solutions and a la carte Services, customers have a choice on how best to begin their journey," said Michael Fillios, Chief Solutions Officer of BTM Corporation.
For more information on BTM Global 2000 solutions and services, please visit http://www.btmglobal2000.com/.
About BTM Corporation:
Founded in 1999, the BTM Corporation (Business Technology Management Corporation) is a management solutions provider that innovates new business models, enhances financial performance, and improves operational efficiency at leading global corporations, government agencies, and social businesses by converging business and technology with its unique products and intellectual property (IP).
For more information, please visit: http://www.btmcorporation.com
###