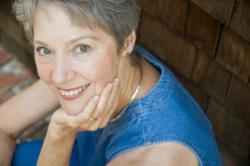 Over the years I have been amazed by the number of women who believe they should hide the condition of incontinence and learn to live with it.
Morehead City, NC (PRWEB) December 21, 2011
BreakThrough Physical Therapy, a private physical therapy practice with locations across North Carolina, announces the recent addition to their staff, women's health expert Jolene Faught, PT, MPT. Jolene has more than eleven years of experience treating conditions that affect women's health such as incontinence, pelvic pain, pregnancy/post partum related pelvic floor and back problems, osteoporosis, post-mastectomy care, and fitness and wellness. During the past four years, Jolene has focused almost exclusively on pelvic rehabilitation, earning certification from the accredited Herman and Wallace Pelvic Rehab Institute on the issues of incontinence and pelvic pain.
Since 2005, Jolene has had the opportunity to share her passion about choosing physical therapy as an option for pelvic floor treatment at various healthcare educational seminars. Her "What Every Woman Should Know" community lectures were extremely effective in sending a message to women who suffer from incontinence and pelvic pain that these conditions do not have to be permanent and physical therapy is an alternative to medications that could possibly cause side effects.
"Over the years I have been amazed by the number of women who believe they should hide the condition of incontinence and learn to live with it," states Jolene. "I'd like every woman to know that physical therapists can help; we are the only medical professionals that take the spine, hip, abdomen, pelvic floor, dietary habits, lifestyle, and scars into account when developing tailored treatments for our patients. This customized approach to patient care yields incredible results; there is no need for anyone to live with leaking or daily pain."
According to the National Association for Continence (NAFC), incontinence is defined as the involuntary loss of bladder or bowel control. It is estimated that 75-80% of the 25 million adult Americans who suffer from incontinence are women. Pregnancy and childbirth, menopause, and the structure of the female urinary tract are the primary causes of incontinence for women. Studies also show that on average, women will wait 6.5 years from the first time they experience symptoms until they obtain diagnosis and treatment.
"My bladder was controlling my life- my husband said it was controlling his as well!" said a recent urinary incontinence patient treated by Jolene. After just seven visits, this particular patient's daily urinary frequency was reduced by more than 60%. "There were so many things [that] I wasn't able to do and places I was unable to go. I was in a lot of pain [from bladder spasms]! I now have my life back!"
Jolene's extensive educational training also allows her to develop physical therapy programs for men who were diagnosed with prostate cancer and suffer the side effect of incontinence due to radiation treatment or surgery.
BreakThrough physical therapists are different from other providers in the treatment of urinary incontinence because they use the latest scientific evidence and tools to get patients better, faster. This also allows patients to avoid the costly use of prescriptions and surgery. To learn more about BreakThrough's treatments for women's health issues please visit BreakThroughPTClinics.com
About BreakThrough Physical Therapy:
BreakThrough Physical Therapy is a private physical therapy practice with locations five locations in Greensboro, Fayetteville, Morehead City, and Winston Salem, North Carolina. Known for treating patients based on the latest scientific research available, BreakThrough physical therapists pride themselves in being spine experts. They deliver hands-on physical therapy based on the best research to achieve optimal results for patients with bad backs, achy joints, wounded hands, and work injuries. Along the way, the BreakThrough Physical Therapy family has fun and makes friends with their patients (and their pets, their kids, their in-laws, and neighbors….) For more information visit BreakThroughPTClinics.com or find BreakThrough Physical Therapy on Facebook and Twitter.
# # #