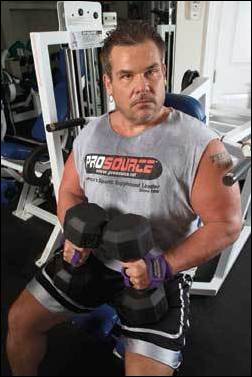 I predict a good time for all.
Manasquan, NJ (PRWEB) January 30, 2007
Mention Bubba the Love Sponge to talk radio fans, and you're likely to catch an earful about whatever outrageously hilarious and raunchy bit Bubba aired on his top-rated satellite radio show that day (Sirius Satellite Radio, Howard 101, 3-7 pm EST, 12 noon-4pm PST).
Lately, though, Bubba would like you to know something else about him. The former heavyweight is sporting a leaner, meaner physique with the help of Prosource Performance Supplements. In fact, he's lost over 70 pounds. To return the favor, Bubba will be appearing at the ProSource booth at the 2007 Arnold Classic, signing autographs and taking pictures with his legions of fans on Saturday afternoon, March 3rd. The Arnold Classic is scheduled for March 2-4 at the Greater Columbus Convention Center in Columbus, Ohio.
"I'm looking forward to hanging with ProSource at the Arnold," Bubba says. "On air, I get a lot of questions from listeners. How'd you lose that much weight? Well, I did it with ProSource. They set me up with a powerful weight loss supplement from BioQuest called Tetrazene ES-50. It jacks up my energy for workouts and keeps my appetite under wraps so I don't overeat. When I'm low-carbing, I eat ProSource's Supreme Protein® bars. And I've been raising my testosterone levels big time with ProSource's test booster, AndroTest. All in all, I've never felt better."
People have noticed. In fact, Bubba the Love Sponge's radical transformation is featured in the March 2007 issue of Muscle & Fitness magazine (which will be on the newsstands the first week of February). That's a fairly unusual media venue for the celebrated radio "shock jock" who once routinely referred to himself as "fat." Bubba will be signing copies of that March 2007 issue of Muscle & Fitness when he appears at the ProSource booth.
"I love meeting the fans," Bubba says. "And I hear the Arnold Classic is a magnet for all kinds of hot girls in tiny outfits, bodybuilding freaks, and assorted crazy people. Add Bubba the Love Sponge and you can't go wrong." Bubba grins. "I predict a good time for all."
###