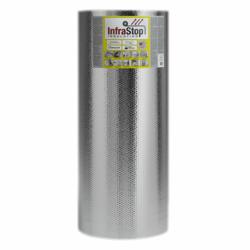 Indianapolis, Indiana (PRWEB) January 31, 2013
Insulation Stop has supplied radiant barrier and reflective foil insulation nationally for over ten years and the addition of an information page regarding their foil bubble insulation products on their new website design is a natural progression. The information page makes navigation easier for consumers as well as providing additional information.
"Foil insulation, a specific type of radiant barrier is used everywhere and in many different industries. Our customers find us from every corner of the internet and they all have specific needs. Our website and industry background focuses on the building materials trade, but the products we sell cross over into different industries. Our insulation is used widely in the packaging industry for example. Other uses include RV's or recreation vehicles, manufactured housing, and many HVAC applications," stated Nick Semon, owner of Insulation Stop. "We have many customers that use our products for different applications other than construction. The most interesting application I have seen was when our material was used to cover water tanks used in the natural gas industry."
"We are excited about our website redesign and to offer this new page. Although our core focus as an insulation supplier to the building material trade will never change, we know we can cater to customers in different industries. The internet is a powerful platform that our customers use to research goods and services and we want to let them know we are out there. Adding this type of information on our bubble insulation is another step in achieving this goal."
For more information on radiant barrier and reflective foil insulation, please visit InsulationStop.com.
Nick Semon is co-owner of Insulation Stop. They offer individual and bulk orders of U.S. made radiant barrier and reflective bubble foil insulation products for commercial and residential use. The company is committed to offering extensive knowledge on the use and application of its reflective insulation products.