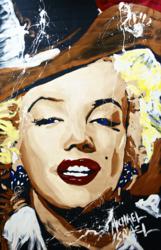 Indianapolis, IN (PRWEB) September 14, 2012
The Eiteljorg Museum's Buckaroo Bash, which will be held Oct. 20 at the Indiana State Fairgrounds, will host world-famous artist and entertainer Michael Israel. Israel has shared the stage with famous faces such as Clarence Clemons and Bruce Springsteen. His unique performances blend a unique artistic talent with a spectacular stage performance.
Israel creates paintings on stage while the crowd watches on. He leaps; launching splashes of color across a canvas revealing larger-than-life images as rock music plays in the background. His one-of-a-kind artwork includes music legends; patriotic images; TV and film stars; as well as custom designs pertaining to specific charities. Israel graciously agreed to create a custom painting for the Buckaroo Bash, which won't be revealed until the end of his performance at the event. Israel's performances are described as a rock concert with Israel and his painting taking center stage.
Israel is not only an artist and entertainer, but also a humanitarian who has painted and presented at some of the world's largest venues including the Olympic Medals Stage in Salt Lake City, UT, and presidential events in Washington, DC. He has raised millions of dollars in support of many notable charities.
The annual Buckaroo Bash always attracts hundreds of excited and enthusiastic supporters who enjoy a Western-themed evening of live music and entertainment. This year's event will also include performances by Matt Roush and Area Code 812 and Paul Poteet will serve as the emcee.
Tickets are on sale. Call 317.275.1311 to reserve your spot. Tickets are $200 and all proceeds from the tickets and the auctions will benefit the Eiteljorg' s educational programs for school-age children.
The Eiteljorg Museum seeks to inspire an appreciation and understanding of the art, history and cultures of the American West and the indigenous peoples of North America. Through its Project New Moon campaign, the museum is attracting new audiences with dynamic new interpretations of its mission. The museum is located in Downtown Indianapolis' White River State Park. For general information about the museum and to learn more about exhibits and events, call (317) 636-WEST (9378) or visit http://www.eiteljorg.org.
TV producers: Michael is available for Skype interviews from his South Florida studio
Print and radio: Michael is available for phone interviews