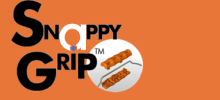 New line of Snappy Grip ergonomic bucket handles that erase the pain caused by carrying heavy buckets by traditional wire handles are now available online at http://snappygrip.com.
GLENDALE, AZ (PRWEB) June 27, 2013
Anybody who has ever had to lug around a five gallon bucket or any other container with a traditional wire bucket handle knows just how much pain those wire handles can cause a human hand. Those thin wire handles have been standard on everything from paint buckets to pet carriers. Tim Crawley, from Snappy Grip Ergonomic Handles is pleased to announce the newest line of plastic handles that instantly snap over traditional wire bail handles for easy, stress-free carrying without the painful discomfort of having wire bail dig into the hands.
Tim Crawley developed the Snappy Grip Ergonomic handle as a comfortable yet durable solution to painful wire bail handles that can easily snap right over the wire bail.
Snappy Grip Ergonomic Handles are practical, durable, and versatile, designed to fit on countless types of surfaces and materials besides wire bail carriers, including rope or twine on heavy packages, wire handles on pet carrier cages or live animal traps or other items with uncomfortable handles. The number of uses for Snappy Grip Ergonomic Handles is limited only by the myriad of items one might have to carry at home, on the job, or during leisure activities. Besides obvious conventional applications, the handles can be modified to use on custom made tools or apparatus.
This ergonomic handle was designed to fit comfortably in the hand. It can reduce hand fatigue dramatically by distributing the weight over more of the surface area of the fingers, which will reduce the possibilities of arm, back, and shoulder injuries. The handles will also prevent users from damaging the circulation in their hands and fingers. Snappy Grip™ Ergonomic Handles will actually make whatever is being carried seem much lighter; many customers have said that they make the bucket feel like it weighs half as much.
Snappy Grip bucket handles are affordably priced ($1.50 each) and durable. The ergonomic handles are made to last for years without deterioration from the sun or chemicals.
"With over 250 million produced every year, the five gallon bucket is considered the most widely used single item in the world," Crawley says. "It has been a standard household item since its introduction, and without a doubt it has more uses than any other product on the market. They are used in just about every trade and often dedicated to a specific task for several years. So, why not have a handle that will make that widely used product more user friendly?"
Snappy Grip Handles can be ordered on line at http://www.shop.snappygrip.com, with discounts provided for multi-unit and bulk orders.