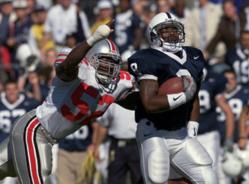 Gives the fans a way to speak to the new coach directly.
Columbus, OH (PRWEB) August 29, 2012
Several former football players from The Ohio State University Buckeyes are going high tech crowd funding to welcome Coach Urban Meyer to Columbus, Ohio.
As reported in The Columbus Dispatch (http://www.dispatch.com/content/stories/business/2012/08/26/online-kick-start.html), they have joined a crowd funding web site's first project to create the Urban Meyer fan book called, "Urban Renewal, The Buckeye Nation Welcomes Their New Coach," at A KickIn Crowd, (http://www.akickincrowd.com).
A fan book is a book where OSU fans join former OSU players sending a message to the coach. When finished, the book will be given to the coach, so he can read it.
Some of the proceeds from the fan book will be given to the BUCK-ICON Foundation, to assist underprivileged youth.
Former players like Buckeye Legend Cornelius Green, Dimitrious Stanley, Rodney "Hacksaw" Bailey, James Cotton and others are sending their wishes to Coach Meyer via crowd funding in the fan book.
"The fan book gives the fans a way to speak to the new coach directly," Tony Reynolds creator of "Urban Renewal," and founder of A KickIn Crowd, a sports based crowd funding website, said.
Reynolds co-authored "Buster's Backyard Bar-B-Q," which is still featured on Oprah.com and Fox News.Com websites. He also penned "The Sarah Palin Rogue Revolution," which was officially endorsed by Sarah Palin Radio.
Crowd funding assures all fans a way to participate evenly in the creation of the book, including their own page, or statements directly in the book, while assuring they reserve a copy of the same exact book he will receive.
Here is how it works. Fans go to the A KickIn Crowd website and make a pledge. Each level comes with a different level opportunity to participate in the books creation, from getting a thank you and updates to having their own page.
Once completed, the players pages are added. The completed book is sent to Coach Meyer as a keepsake.
A KickIn Crowd is the fastest growing crowd funding platform for athletes, sports teams and innovative projects.
#Buckeyes #GoBucks #OSU #Buckeyenation #OhioState #Football