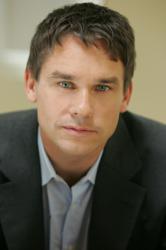 "Peter Drucker is the most profound business thinker of the last century. I am excited to help the Drucker Institute expand and apply his thinking to the practical challenges of this coming century."
Claremont, CA (PRWEB) February 08, 2012
The Drucker Institute at Claremont Graduate University announced today that Marcus Buckingham, the renowned management author and thinker, has joined its Board of Advisors.
"One of Peter Drucker's core principles was that people should build on their strengths so as to make their weaknesses irrelevant," said Bob Buford, the Drucker Institute's chairman. "Marcus has taken that fundamental concept and advanced it greatly through a remarkable combination of empirical research and insightful analysis. His work is truly Drucker-like, and we are honored to have him join us as we seek to make society better by advancing Peter's ideas and ideals."
Buckingham, who spent two decades as a senior researcher at the Gallup Organization, has written a string of best-selling books. They include: "First, Break All the Rules" (coauthored with Curt Coffman), "Now, Discover Your Strengths" (coauthored with Donald O. Clifton), "The One Thing You Need to Know", "Go Put Your Strengths To Work," "The Truth About You" and "Find Your Strongest Life." His latest project is the New York Times and Wall Street Journal bestseller "StandOut," a book and strengths-assessment combination that uses a new research methodology to reveal people's top two "Strength Roles," which Buckingham defines as their "areas of comparative advantage."
In 2005, Buckingham founded The Marcus Buckingham Company, which works with managers at Toyota, Coca-Cola, Master Foods, Wells Fargo, Microsoft, Disney and other organizations to find their strengths and sustain long-lasting personal success.
"Marcus is not only an exceptional writer and thought leader, but he's also done a tremendous job building his own company," noted Rick Wartzman, the Drucker Institute's executive director. "That kind of expertise is just what we need as we seek to scale up our programs and deepen our own impact around the world."
Buckingham said he was honored to be appointed to the Drucker Institute board. "Peter Drucker is the most profound business thinker of the last century," Buckingham remarked. "With his concept of the company as a social organism, his focus on the transformative power of entrepreneurship and his belief that the most productive companies and individuals 'get their strengths together and make their weaknesses irrelevant,' he laid the foundation for better leadership and a better society. I am excited to help the Drucker Institute expand and apply his thinking to the practical challenges of this coming century."
About the Drucker Institute
The Drucker Institute at Claremont Graduate University is a think tank and action tank whose purpose is to better society by stimulating effective management and responsible leadership. It does this, in large part, by advancing the ideas and ideals of the late Peter F. Drucker, the father of modern management.
To meet its mission, the Institute hosts collaborative forums for executives from across all sectors; works with high school and middle school students to teach them basic management principles and equip them with lifelong tools for effectiveness; produces curricular material that distills Drucker's decades of leading-edge thinking, including a management training system called the Drucker Management Path; and acts as a hub for a worldwide network of Drucker Societies: volunteer-driven organizations that are using Drucker's teachings to bring about positive change in their local communities.
In addition, the Institute maintains a digital archive of Drucker's papers and other holdings related to the fields of management and leadership; undertakes research that builds on Drucker's writings; offers an annual $100,000 prize for nonprofit innovation; applies Drucker's work to current events (through a regular online column in Bloomberg Businessweek by Institute Executive Director Rick Wartzman; a blog called the Drucker Exchange; and a monthly radio show called "Drucker on the Dial"); and hosts visiting fellows with Drucker-like insights and values.
The Institute is a close affiliate of the Peter F. Drucker and Masatoshi Ito Graduate School of Management, which is training the next generation of leaders and managers to do good while they do well. For more on the Drucker Institute, please visit: http://www.druckerinstitute.com.
About Claremont Graduate University
Founded in 1925, Claremont Graduate University is one of the top graduate schools in the United States. Our nine academic schools conduct leading-edge research and award masters and doctoral degrees in 22 disciplines. Because the world's problems are not simple or easily defined, diverse faculty and students research and study across the traditional discipline boundaries to create new and practical solutions for the major problems plaguing our world. A Southern California-based graduate school devoted entirely to graduate research and study, CGU boasts a low student-to-faculty ratio.
###