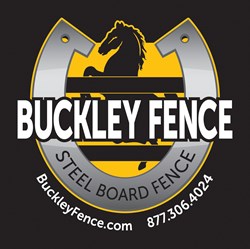 Jim Buckley, founder and inventor, Buckley Fence, LLC says, "We're too busy selling and installing fences right now to slow down and celebrate. It's a good problem to have, and hopefully we'll find the time to put together a formal celebration soon."
Milwaukee, WI (PRWEB) November 06, 2013
Buckley Fence, LLC has helped to revolutionize horse fencing systems over the last six years. Since the company's founding in late 2007, it has extended its product line to include the Buckley Steel Board Fence, become a vocal proponent of green building, and been featured in numerous publications.
As their sixth anniversary commences, demand for the Steel Board Fence system is higher than ever. Horse owners are becoming more aware of the benefits of using recyclable metal materials when constructing fenced in areas for their animals. Veterinarians have made note that fences constructed of metal are safer because they have the ability to flex when horses run into them. Buckley Fence products are also smooth with no screws or nails protruding, which offer an added layer of protection.
Jim Buckley the founder, inventor and engineer behind Buckley Fence, LLC says right now they haven't planned anything extravagant for the company's sixth anniversary. "We're too busy selling and installing fences right now to slow down and celebrate. It's a good problem to have, and hopefully we'll find the time to put together a formal celebration soon."
In addition to constructing and installing fences, Buckley Fence offers horse gates made of steel as well as two different latches that are horse tamper proof.
To learn more, connect with the company on the Buckley Fence Facebook page or visit: http://www.buckleyfence.com/.
About Buckley Fence, LLC
Buckley Fence, LLC is focused on helping property owners make a long-term investment not a short-term solution for their fencing needs. Their high-quality horse fences use the latest techniques and materials that are proven to be safer for animals and durable enough to last for years. Buckley Fence has created two lines of post and rail fencing systems – the Alumashield Fence and the Buckley Steel Board Fence - using environmentally friendly metals that will last at least 25-50 years.