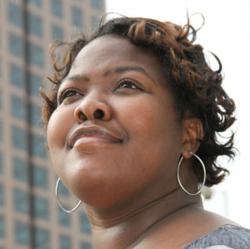 Buckner Family Pathways has changed my life from having nothing to having something.
DALLAS, Texas (PRWEB) May 04, 2011
Shanjula Harris woke up early every morning in the homeless shelter to help her children get ready for school. After she dropped them off, she came back, put on her nicest clothes and started walking.
"Every day, Lord knows, I'd walk up and down town and ask for work. And I did it every single day," Harris said.
Harris had worked for years as a medical assistant at a Dallas hospital, but when she lost her job in 2009, she had nowhere to go. She and her three children – Deon, 14; Precious, 13; and Twquan, 12 – were forced to move into a shelter the day before Thanksgiving.
"Since I'm the only provider for my family, when I lost my job, it was very unusual," Harris said. "I've never lost a job before. It was hard. Nobody ever wants to be homeless."
Unfortunately, Harris' story isn't that unusual. It is estimated that more than 79,000 people experience homelessness on any given day in Texas. About 85 percent of homeless families are headed by women – specifically single women with children.
"One thing I did [in the shelter] was I prayed a lot," Harris said. "There were a lot of things I didn't understand. And some days I didn't feel like praying. But I knew I had to because I knew it wasn't me by myself. I had my kids to think about, too."
In March 2010, Harris received the break she needed: she was offered a job. And a few weeks later, she came to Buckner Family Pathways, a self-sufficiency program of Buckner International for single-parent families seeking higher education. She and her three children would live in their own apartment on the Buckner Children's Home campus while Shanjula worked to obtain her bachelor's degree.
Today, Harris plans to go to medical school after she graduates and become a licensed psychiatrist. She said the opportunity to study was an answer to her prayers.
"Buckner Family Pathways has changed my life from having nothing to having something," she said. "If I wasn't here, there's no way I'd be thinking about med school. I want my children to see me graduate, to say, 'My mom did it, she was a single parent raising three children by herself. If she can do it, I can do it.'"
Women's circumstances in this life are often very different than those of men. Women do 60 percent of the world's work and only earn 10 percent of the world's income. In Sub-Saharan Africa, 60 percent of those living with HIV are women. And in Southern Asia and Africa, 80 percent of the jobs held by women are unpaid. In total, women comprise 70 percent of the world's 1.3 billion poor living on less than $1/day.
On a more positive note, when a woman earns income, she reinvests 90 percent of it into her family, as compared to only 30-40 percent for a man.
JoAnn Cole, senior director of campus and family programs for Buckner, said empowerment is the ultimate goal for Buckner's seven family self-sufficiency programs across the state of Texas.
"When a mother learns that she is worth something, that she can provide for her family and her children see that transformation happen, lives are changed. Generations are changed for the better," she said.
Buckner currently supports more than 130 single-parent families each year through self-sufficiency programs in Amarillo, Conroe, Dallas, Houston, Lubbock, Lufkin and Midland. To learn more about Buckner International's work with single mothers, please visit http://www.buckner.org.
###