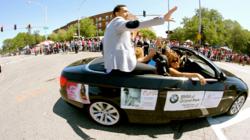 It was great to be a part of such a historic event and show support for the children and teens who will be returning to school this year. It was an exciting experience to be in the parade
Chicago, IL (PRWEB) August 14, 2012
R&B artist A.M.X. Andre Mieux made the 83rd Annual Bud Billiken Parade and Picnic an even hotter occasion with his special appearance at the event on August 11 to promote his newly-released mixtape "Broken Halo". A.M.X. joined the event to meet music fans and build momentum behind his new mixtape as he gears up for future appearances and performances.
A.M.X. joined civic leaders, music artists and thousands of participants to make the annual parade a memorable event. The annual Bud Billiken Parade and Picnic, which began in 1929, is the largest African-American parade in the U.S. and has received millions of spectators. Each year, the event ushers in the new school year for students in the Chicago area. A.M.X. had the distinct privilege of meeting leaders such as civil rights activist Rev. Jesse Jackson, Illinois Governor Pat Quinn, U.S. Congressman Danny K. Davis, Rev. Dennis H. Holtschneider, President of DePaul University and many other officials. A.M.X. was also a part of the parade and traveled along the parade route. Additional music artists who attended the event included rapper T.I. and R&B singer Monica.
"It was great to be a part of such a historic event and show support for the children and teens who will be returning to school this year. It was an exciting experience to be in the parade," said A.M.X.
A.M.X. is diligently promoting his new mixtape and lining up future performances of the hit songs from his highly-anticipated mixtape "Broken Halo", which was released July 31. The mixtape features several tracks, including "Got the Tab" featuring Sean Brown, "House Party" featuring Shorty Mac and "Hood" featuring Bizzy Bone. A.M.X. is also known for his hit single "You Made Me Change My Number" featuring Snoop Dogg.
For a preview of A.M.X.'s new mixtape "Broken Halo", visit A.M.X.'s website at http://www.whoisamx.com.
For booking appearances, contact Mary Akhlaghpour, Founder and President of MBA Art & Entertainment at mary@mbaentertainment.com.
For media inquiries and interviews, please contact YM & Associates PR | Marketing | Branding at Media@YM-PR.com or 949-244-9769.
Yvette Morales
YM & Associates
PR | Marketing | Branding
California | New York
949.244.9769 | 310.499.0906 Fax
YMoralesY(at)YM-PR(dot)com
http://www.YM-PR.com
Twitter @YMTheBevHillsPR