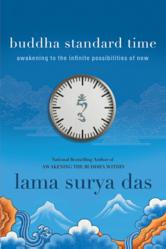 From early morning to late at night, from preschool to retirement, we rush through our lives in order to scrimp on time. But what if time did not control us? What if we felt that our time and our lives were our own?
San Francisco, CA (PRWEB) May 19, 2011
Life in the 21st century moves at break-neck speed. Yet despite our slavish dependency on instant coffee, express buses, ATMs, and 140 character tweets, we're all strapped for time and desperately wish for more hours in the day. What if someone had a solution for how busy and stressed out we've all become?
Now in BUDDHA STANDARD TIME: Awakening to the Infinite Possibilities of Now (HarperOne; June 2011; hardcover; $25.99), Lama Surya Das, national bestselling author and one of the foremost Western Buddhist teachers, offers an alternative to the ceaseless hustle and bustle of modern American life.
The problem begins, Surya Das says, with our relationship to time—we experience it linearly by moving forward doing and accomplishing things. But we are human beings not human doings, and the thinner we spread ourselves the more disconnected we become. That leaves us vulnerable to high blood pressure, heart attacks, stroke, insomnia, digestive ailments, and depression. We must eschew the notion that stress will melt away if only we could adapt to the frenetic pace of life. Instead the aim is to experience the Eternal Now, or what Surya Das calls "Buddha Standard Time"— the realm of timelessness where every choice, every action, and every breath can be one of renewal and infinite possibilities.
With "Mindful Moments" exercises and "Time Out" meditations, Surya Das equips readers with tools to cure the "disease to please," kick addictions, reconnect with nature, and gracefully embrace loss, sickness, and death. When we incorporate Buddha Standard Time, stress melts away, and we find greater focus, fulfillment, creativity and even wisdom. Buddhists and non-Buddhists alike will find inner peace and live more sanely and joyously by realizing we have all the time in the world.
ABOUT THE AUTHOR
Lama Surya Das is the national bestselling author of Awakening the Buddha Within and Buddha Is As Buddha Does. A renowned Western Buddhist meditation teacher and scholar, he teaches and lectures around the world, conducting dozens of meditation retreats and workshops each year. Based on his relationship with His Holiness the Dalai Lama, Surya Das founded the Western Buddhist Teachers Network and has organized three week-long conferences of Western Buddhist Meditation Teachers with the Dalai Lama in Dharamsala, India. He also teaches regularly at Esalen, Open Center, Omega Institute, Interface, at universities in the United States and abroad.
Praise for Buddha Standard Time:
"This book is Lama Surya Das in his most tone-perfect Western guru voice: authoritative, inviting, generous, funny, poetic, imaginative and informative and totally accessible. For newcomers to Buddhism (and non-Buddhists interested in universal wisdom!) and 'old hands' at practice, this is a delightful read. It promises nothing less than a liberated life, freed from the angst over the tyranny of time, though the practice of loving presence. The 'To Do' sections are remarkable interesting and inspiring."
— Sylvia Boorstein, author of Happiness Is An Inside Job
"Lama Surya Das is on our best teachers of universal wisdom. Buddha Standard Time is fairly dripping with insights. It's like a treasure to keep near you at all times."
— Marianne Williamson, author of The Age of Miracles
"Buddha Standard Time is a welcome antidote to the often frenetic pace of modern life. Drawing from the broad scope of his poetic, social and scientific interests, as well as the great depth of his Buddhist training, Lama Surya Das offers a wise and sane way to navigate these times. This pragmatic book will be illuminating and helpful for anyone wishing to find the timeless amidst the rush of time."
— Joseph Goldstein, author of One Dharma and A Heart Full of Peace
"A wealth of inspiration and practical tips for enjoying the Kingdom of God, the Pure Land of the Buddha, *now*."
— Bestselling author Thich Nhat Hanh
BUDDHA STANDARD TIME
Awakening to the Infinite Possibilities of Now
By Lama Surya Das
HarperOne, an imprint of HarperCollinsPublishers
May 2011 | Hardcover |$25.99 | ISBN: 9780061774560
###