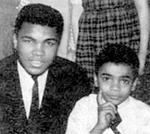 The Champ was my big brother -- two young guys being guided in the world by Bundini, our common psychological father.
Vienna, Virginia (PRWEB) October 20, 2011
maXam Production Group (http://www.maxamgroup.org) proudly announces the birth of a bouncing, baby boy in the guise of Buddy Drew - The Musical. This brand new musical takes its first steps towards a life on Broadway with an open call for actors. Especially needed are black actors who can sing to play principal roles. The producers of the Buddy Drew – The Musical will bring the show to life February 24 & 25 at the Soundry in Vienna, Va (soundry.net). Get your tickets now as this is an intimate affair with only 50 seats available for each night. Those that are lucky enough to be in attendance will have the opportunity to provide feedback after each performance with an open ended Q & A session with the cast and crew. To reserve your spot email tickets(at)buddydrew(dot)com.
Based on the real life story of Drew Brown III, Buddy Drew – The Musical is a coming-of-age tale about a black kid from Harlem raised by his white, Jewish grandparents in Brighton Beach right smack dab in the middle of the prize fight known as the Civil Rights Movement. His black father, Bundini Brown, a street hustler from Harlem and also the corner man for the heavyweight champion of the world Muhammad Ali, married Rhoda Palestine, a nice Jewish girl from Brooklyn who reveled in the sights and sounds of the Harlem nightlife that Bundini reigned over. Together they made history and Drew Brown III. The three of them - Bundini, Rhoda and Buddy Drew - form a dysfunctional yet poignant love triangle with Bundini at the apex. And according to Buddy Drew, "to be loved by Bundini was like an addiction. Once you had it, you wanted it all to yourself. "
Growing up with a life as shaky as a yarmulke on an Afro, Buddy Drew must contend with an absentee father who spent the better part of his life fostering the career, affection and respect of his "other" son, Muhammad Ali. Buddy Drew finds himself sparing with the world's greatest boxer for the love of Bundini. Like many father/son, love/hate relationships, Buddy Drew searches for his own identity and when is finally able to forgive, though he can never forget, fulfills his destiny prophesied at his own Bar Mitzvah speech and himself becomes a Real Drew. And today he is a man.
On August 8, 2012, Buddy Drew – The Musical will be presented in concert-version at the Harris Pavilion in Manassas, Va. (harrispavilion.com) as part of that organization's outdoor summer concert series
For the remainder of 2012 and into 2013 the musical will undergo rewrites as needed gearing up for a 12 week run in the theater district of Houston, Texas and/or Philadelphia and from there, if Buddy Drew – The Man OR Musical has his way (and he always does)… BROADWAY.
This is not a Jewish musical like Fiddler on the Roof, or a black musical like The Wiz, but an American musical because as Buddy Drew will tell you:
"I am not an African American! I am not an African American! I am not an African American! I am an American who happens to be black and Jewish and I keep Kosher and I eat pork rinds."
Visit http://www.buddydrew.com
###