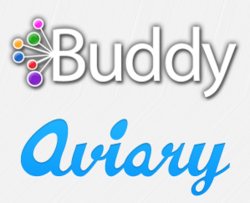 Support user-generated image editing on any mobile device or web platform.
Seattle, WA (PRWEB) February 20, 2012
Buddy Platform, Inc. today announced a partnership with popular image editing and processing platform Aviary, Inc. that will enable a new generation of applications to support user-generated image editing on any mobile device or web platform.
In addition to the photo album support offered by Buddy today, developers will be able to have app users perform image manipulation, apply photo correction or special effects across all OS platforms overlaid with Buddy's analytics. Best of all, developers need only manage a single administrative account at Buddy.com.
"We're delighted to be joining with Aviary to deliver this functionality to users across all mobile platforms", said David McLauchlan, CEO of Buddy. "One of our most requested features is the ability to support photo editing in-app. By working with Aviary to deliver this solution, we're powering this feature with the best mobile photo editing engine in the business."
Aviary provides SDKs for web, iOS and Android with Windows Phone coming soon. The Aviary SDK allows developers to support inline photo editing as a seamless component of their apps. The partnership with Buddy brings that powerful technology to developers who also need support for other common connected-app scenarios such as user accounts, location services or messaging/chat.
"We love the ease and simplicity Buddy brings to building cloud-connected and engaging apps, and we believe that the most engaging apps let users reach their creative potential", said Paul Murphy, VP at Aviary. "With photo editing powered by Aviary soon available to Buddy developers worldwide, we look forward to the creative results from developers and users alike, as this new generation of apps emerges."
Support for image editing powered by Aviary in the Buddy Platform is expected to be available to developers mid-Spring.
About Buddy Platform, Inc.
Buddy Platform, Inc. is a Kirkland, Wash. based company that provides publishers of mobile applications high fidelity analytics, and developers of mobile apps a fully hosted and managed toolset of web services to power the cloud-connected pieces of those apps.
Buddy's high fidelity analytics for mobile apps are powered by the "Buddy Platform", a set of hosted cloud services mobile developers can use to quickly and easily add cloud-connectivity to their apps. Developers on any platform build their apps using Buddy Platform APIs that support such scenarios as user accounts, friends & group lists, messaging & chat, geo-location services, photo albums, metadata, push notifications and crash reporting. Simple usage of the platform auto-generates amazingly detailed analytics for the publishers of those apps. More information is available at http://www.buddy.com or holler@buddy.com.
About Aviary, Inc.
Aviary's mission is to power the world's creativity. More information is available at http://www.aviary.com or email contact@aviary.com.
###