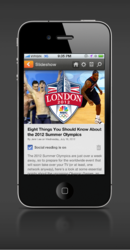 Seattle, WA (PRWEB) July 25, 2012
BuddyTV Guide, the free mobile channel guide and social TV app from BuddyTV, has introduced its most exciting feature yet, just in time for the 2012 Olympic Games in London: The app's new dedicated "2012 Olympics" quicklist, which allows users to track the extensive, multi-channel televised coverage of the 2012 Olympic Games in one easy-to-use guide on their smartphone or tablet.
Instead of searching through their cable guide for the five separate channels airing Olympics coverage this summer, users can sign in to the BuddyTV Guide app, which saves and automatically updates their local listings, and view a chronological lineup of all upcoming Olympics events across their available channels. Subscribers to the 2012 Olympics quicklist will also receive real-time alerts and mobile access to in-depth coverage for all the games' must-see events, so they can keep track of their favorite Olympians and follow the biggest moments of the London Games, wherever they are.
"The Olympics are the biggest television event in the world, with thousands of hours of footage available across five TV networks and online, and there's always something exciting to watch -- if you can find it," said BuddyTV CEO Andy Liu. "The goal of the 2012 Olympics quicklist is simple: To help you find the events you want to watch faster and easier, so you never miss out on what makes the Olympics such an incredible international event."
Real-time alerts throughout the games will notify subscribed BuddyTV Guide users when a must-see Olympics moment is about to happen. Users can then click on the alert to see which channel on which the event is being broadcast. The quicklist will also provide mobile access to up-to-date Olympics news and features from BuddyTV.com, covering the biggest and most buzzed-about moments of the games.
For those with over-the-air and broadcast television without a cable guide, the BuddyTV Guide can also serve as an over-the-air guide to display programming details for a user's local broadcast channels, including NBC, which will air the majority of the major televised Olympics coverage.
The BuddyTV Guide app helps users "discover their must-see TV" by providing a customizable channel guide app on their mobile or smart device. The app integrates local listings with their streaming services like Netflix and Amazon, and users can handpick their favorite channels and TV shows,filter their listings by program type, and see smart recommendations based on their own tastes. The app's "quicklists" provide easy access to user favorites, unique recommendations and the most popular programs at any given moment, among other options.
The app is free for both iOS and Android, and also includes social watching features, like the abilities to text viewing buddies and share check-ins and TV show suggestions to Facebook. Users with compatible hardware can even use the app as their remote control.
BuddyTV Guide provides listings for cable and satellite TV providers in the US. These include Comcast, Cablevision, Time Warner, Verizon, DirecTV, Dish and many more. Facebook Open Graph is currently available for users on the iPhone or iPad, with an update for Android users coming shortly. Users with AT&T U-verse receivers, DirecTV DVRs, Sony Internet TV with Google TV, Logitech Revue, TiVo Series 3, TiVo Premier, any devices controlled by Google TV and Samsung Smart TVs can use the app's remote control capabilities.
About BuddyTV:
BuddyTV's goal is to help TV fans discover their must-see TV. As the #1 independent TV site on the web, this means providing a venue for over 5 million unique visitors per month to connect with fellow fans, read the latest news and enjoy entertaining features about their favorite shows. Now, with over 400,000+ downloads on iOS and an almost perfect average user rating of 4.7 stars, the BuddyTV Guide app is enhancing and expanding the ways that consumers enjoy their TV time.
For press inquiries or to arrange an interview with BuddyTV CEO Andy Liu, please contact Meghan Carlson at BuddyTV: meghan (at) buddytv (dot) com, or 206.859.4180 x203. For more information about BuddyTV and the BuddyTV Guide App, visit http://www.BuddyTV.com, and follow @BuddyTV and @BuddyTVGuide on Twitter.