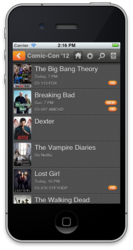 One tap on the app gives users access to the entire list of shows, from which they can pick a show and see the most up-to-date reports straight out of Comic-Con.
Seattle, WA (PRWEB) July 11, 2012
BuddyTV Guide, the free customizable channel guide app from BuddyTV, has released a new feature to its iOS and Android mobile apps to help fans near and far keep track of the biggest pop culture convention of the year: San Diego Comic-Con 2012. With the app's new "Comic-Con 2012" quicklist, BuddyTV Guide users can quickly find the latest news and updates about the biggest new and returning TV shows at the convention, with exclusive in-person reporting by the BuddyTV team at Comic-Con.
With over 120,000 people in attendance last year, Comic-Con has become the prime destination for the biggest names in television to come together, celebrate their creations and preview what's next. The convention spans all TV tastes and genres, with everything from epic dramas like "Game of Thrones," sci-fi adventures like "Dr. Who" and cult comedies like "Community" sharing their secrets with fans and the media. The Comic-Con app feature helps fans keep track of the 45 most buzzed-about television shows involved in this year's convention, and is easily accessible from the Homepage of the BuddyTV Guide.
One tap on the app gives users access to the entire list of shows, from which they can pick a show and see the most up-to-date reports straight out of Comic-Con. Users can also view the show's next available airtimes on their cable provider or Netflix, Amazon and iTunes accounts, access available previews and trailers, catch up on news, reviews and photos from past seasons, and set reminders for new episodes -- so they never miss a moment when their favorite shows come back to air.
The Comic-Con 2012 quicklist draws its content directly from BuddyTV's team of reporters in San Diego for the big convention, and will also include schedules of the panels and press rooms at the four-day entertainment extravaganza.
"We're big fans and supporters of Comic-Con, but we know it's just not possible for everyone to attend," said BuddyTV CEO Andy Liu. "But thanks to the wonders of the Internet, you don't need to be there in person to feel the love and get all the updates. And now, with the Comic-Con 2012 quicklist on the BuddyTV Guide, it's even easier to stay in the know, because you can see all the latest coverage, all in one place."
BuddyTV Guide's overarching goal is to help users "discover their must-see TV," by providing a customizable channel guide app on their mobile or smart device. The app works by integrating the user's local listings with their streaming services, then allowing the user to handpick a personal "Watch List" of their favorite TV shows, hone their listings by program type and other filters, and see program recommendations based on their own TV tastes. The app's "quicklists" are a regular feature that also provide easy access to the user's Watch List, unique recommendations and the most popular programs at any given moment, among other options.
The app is free for both iOS and Android, and also includes social watching features, like the abilities to text viewing buddies and share check-ins and TV show suggestions to Facebook. Users with compatible hardware can even use the app as their remote control.
BuddyTV Guide provides listings for cable and satellite TV providers in the US. These include Comcast, Cablevision, Time Warner, Verizon, DirecTV, Dish and many more. Facebook Open Graph is currently available for users on the iPhone or iPad, with an update for Android users coming shortly. Users with AT&T U-verse receivers, DirecTV DVRs, Sony Internet TV with Google TV, Logitech Revue, TiVo Series 3, TiVo Premier, any devices controlled by Google TV and Samsung Smart TVs can use the app's remote control capabilities.