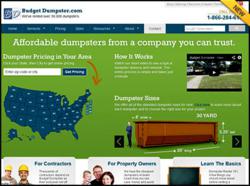 Cleveland, OH (PRWEB) June 21, 2013
Budget Dumpster currently provides roll off dumpster rentals to customers in over 40 states to effectively remove waste around the country. The new version of the website will allow customers to utilize a variety of online services and even complete the entire dumpster rental process.
The new website will continue to provide a variety of online services such as request a price quote, schedule a pick up, order again and more. There are also many updates that will better serve the desires of customers. Budget Dumpster's website will not only focus on supplying dumpster rentals but also educating customers about effective waste removal.
Budget Dumpster realizes that customers consume information in a variety of ways and they are definitely tapping into that with the new website. The new site incorporates the most advanced website design but still allows the most novice individuals to easily use the website and find exactly what they need. Currently, there are videos and interactive graphics, which not only inform but also make maneuvering around the site very simple and even fun.
To stay more inline with the current times, Budget Dumpster has interwoven its various social media platforms within the site. Budget Dumpster has put a great deal of emphasis in social networking and it is apparent in the website. Social media is just another tool of Budget Dumpster that is being used to meet the needs of its customers and stay connected with them.
Budget Dumpster currently has customers all across the nation. Although they are a national dumpster rental provider, they remain focused at the local level. The new website site serves any potential customer but makes it very easy to find detailed information regarding renting a dumpster in any specific location within the United States. With just a few clicks of the mouse or by simply submitting a zip code, customers can easily be directed to the precise page.
The new website is consistent with the focus of Budget Dumpster to constantly improve and evolve its service to better serve the needs of its customers. Since implementing the new site, Atlanta dumpster rentals has provided substantial traffic and shown early success. BudgetDumpster.com will be mutually beneficial and ultimately allow more people become free of waste.
About Budget Dumpster
Budget Dumpster LLC has been constantly expanding its service throughout the United States and recently begun providing roll off dumpster rentals in greater Denver. The consistent growth is a testament to the success of Budget Dumpster and the need for proper waste removal around the country. Budget Dumpster will provide effective service to the most rural of areas and even supplies a high volume of dumpster rentals in Los Angeles and other major metropolitan areas. As long as Americans create trash, Budget Dumpster will be in business.