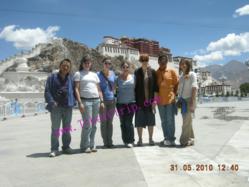 Local Tibet travel agency www.tibetCtrip.com offers low budget tours for students with better prices.
(PRWEB) April 22, 2013
Students who travel Tibet gain a unique global perspective that helps them stand out amongst their peers. Those students who take time to understand and engage with people from around the world are gain effective communication skills and enjoy a competitive advantage in the job market after graduation. To help students gain a global perspective, Tibet Ctrip Travel Service-TCTS (http://www.tibetctrip.com) one Lhasa travel agency offers a variety of culture-focused tours that also provide opportunities for enjoying Tibet's natural beauty! While on a tour of Tibet, students can engage in enriching activities such as: visits to cultural and historical sites, trekking, and sampling Tibetan food; all while still allowing free time to explore and observe every day Tibetan life.
Visits to cultural and historical sites: On a Tibet tour every day is a learning experience. TCTS uses experienced native Tibetan guides who are passionate about sharing their culture and history. When visiting places such Potala Palace or Jokhang Temple a native Tibet guide is essential to gaining the most authentic perspective possible. Places like these house cultural relics dating back well over a thousand years, providing excellent opportunities to learn how religions like Tibetan Buddhism and the ancient Bon religion have played a role in Tibetan history and continue to play a role in modern Tibetan culture.
Trekking and Mountain Biking: The beauty and uniqueness of Tibet's natural scenery is unmatched anywhere on Earth. Trekking and mountain biking are among the best ways of experiencing scenery that most tourists don't see! However, the beauty of Tibet's natural scenery is not its most important characteristic; the Himalayas, for example, are responsible for monsoon rains in Southern Asia and are the source of some of many important rivers. Tibet trekking and mountain biking provide first hand experience and understanding of how Tibet's fragile ecosystems provide for an entire continent.
Sampling Tibetan Food and Exploring: While traveling, taking time to try new foods can be a great way to put one's self in the shoes of a local. Wheat made from Tibetan barley is a staple of the local diet, making for irresistible noodle dishes, while locally raised yak, goat, or mutton makes for great spicy stews and curries. Taking time to explore cities by foot is a great way to enjoy free time and see every day life. Barkhor Bazaar is a traveler favorite for exploring!
Tibet travel provides many unique opportunities to engage with locals and become more in touch with Earth's natural heritage. The array of enriching activities TCTS can organize helps ensure that there is something for everyone. Students who visit will be able to learn about the region's culture and history while taking a much-needed break from studying! TCTS's native Tibetan guides welcome questions about Tibetan culture and can help travelers gain insights into Tibet they otherwise wouldn't have. With summer right around the corner, travelers are advised to plan ahead and book their tour as soon as possible!
Devin Moore provided this news release above on behalf of local Tibet tour agency TCTS (tibetctrip.com). Devin is a travel writer and independent economic analyst based in Springfield, Missouri USA. His economic research is currently focused on airfare pricing. Devin Moore works to spread awareness of Tibet and its people through publishing Tibet travel information.