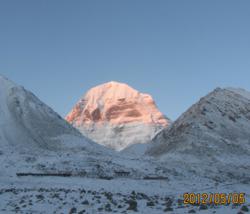 Kailash Tour is easier and closer with local agent in Lhasa, Tibet
(PRWEB) February 26, 2013
Tibet Ctrip, a Lhasa based Tibet travel agency, is now offering Mt. Kailash tours departing from Kathmandu! Every year, thousands of Buddhist and Hindu pilgrims make the trek around the base of Mt. Kailash to cleanse their souls. Beginning in Kathmandu and making the adventure to Mt. Kailash is a fantastic way to engage with and learn about people from a variety of different cultures. Travelers can begin the tour with a Nepali guide in Kathmandu; here they will be able to explore some of Nepal's most famous cultural sites. Once travelers explore Kathmandu they will be escorted to the border with Tibet where travel groups will meet their native Tibetan guide.
In Kathmandu the tour group can explore temples and Kathmandu's Durbar Squares. Once travel groups reach the border, their Nepali guide will help groups through the immigration procedures, from there it's a short walk across the border to meet the group's native Tibetan guide. The tour allows for a day of acclimatization in the town of Nyalam before beginning the drive to Kailash. Travelers are advised to relax, drink lots of water, and not over exert themselves while acclimatizing to the altitude.
From Nyalam it's a two-day drive to Kailash, along the way the Tibet tour makes stops for pictures of the mountain scenery and gives travelers plenty of opportunity to see daily Tibetan life. On the second day of the drive, the tour passes the stunningly beautiful Lake Manasarovar! Once travelers reach Mt. Kailash, it takes about three days to trek around its base. Here travelers will meet pilgrims from all over the world and have plenty of time to ask their native Tibetan guide questions about the areas importance to Tibetan Buddhists. After completing the Tibet trekking portion of the tour, the group will wind its way toward Lhasa making a stop in Shigatse to see Tashilhunpo Monastery and a stop in Gyantse to see the Kumbum Pagoda and Pelkhor Monastery.
Before the tour ends in Lhasa, travelers will see famous sites such as Jokhang Temple, Potala Palace, and Barkhor Bazaar. Travelers are free to customize the tour to their specific needs and interests; many choose to visit famous monasteries such as Ganden and Samye or visit Yarlung Valley, cradle of Tibetan civilization. Engaging with local culture is an important part of any travel experience, by providing a Nepali guide while in Nepal and Tibetan tour guide in Tibet travelers will enjoy a more authentic perspective on the places they visit. With the Tibet travel season rapidly approaching, travelers are advised to plan in advance in order to maximize the value of their tour.
Devin Moore, author of this article, is a travel writer and independent economic analyst based in Springfield, Missouri USA. Devin enjoys travelling throughout Asia and his economic research is currently focused on airfare pricing. In partnership with local Tibet travel agent (tibetctrip.com), Devin publishes Tibet travel related information in order to spread awareness of Tibet and its people.