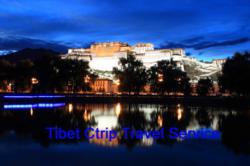 Find the best value for professional and high standard Tibet Group Highlight Travel 2013.
Lhasa, Tibet (PRWEB) February 18, 2013
For those looking to take in magnificent scenery while learning about a fascinating culture along the way, the Tibet highlight group travel combining the Namtso landscape and Tibet culture is a perfect get away. Monasteries with fantastic works of art, holy lakes, mountain vistas, Tibetan nomad's culture and hot springs await travelers who embark on this adventure.
→ The Tibet tour program is as specified below:
Day 1: Arrive in Lhasa. Guides will meet groups at the airport or train station and transfer them to their hotel in Lhasa. After checking into the hotel, this can be a great time to do some exploring, but be sure not to overdo it. Some travelers can succumb to altitude sickness if care isn't taken while acclimatizing. Be sure to drink lots of water!
Day 2: Travelers start learning about the Unique Tibetan custom on the first day of sightseeing! Walk where Dalai Lamas have walked in Potala Palace and take a step back in time at Jokhang Temple which houses the only known image of the Buddha, Siddhartha Gautama. Mean while, tourists should never miss the light walking experience around the Barkhor streets where the real Tibetan city life can be expressed. These are among the most important cultural sites in Tibet, so don't hesitate to ask the local Tibetan travel guide lot's of questions!
Day 3: More sightseeing in Lhasa. Today groups visit Drepung Monastery which is hidden in the mountains just outside the city, this used to be the largest monastery in the world and served as a university for Tibetan Buddhist monks. In the afternoon see the debating monks of Sera Monastery. The group's guide will explain the rules and procedures of the debates and help travelers gain a better understanding of Tibetan Buddhism.
Day 4: Today is a great day for witnessing Tibet's natural beauty. Mountains, grasslands, and the holy Namtso are on order for today. Namtso, one of the famous Tibet tourists' attractions, is one of the 3 holy lakes in Tibet, playing an important role among Tibetans. Every sheep year in Tibetan calendar, the Trekking Namtso Festival is held and numerous pilgrims from far away visit the lake to pay homage. After the landscape and nomad culture experience tour, the tour group can have the option of relaxing and reflecting on the day's experiences at Yangpachen hot spring.
Day 5: Leave Lhasa for the airport or train station and get to the next travel destination.
→ This 5 days' short time excursion is great for those who seek a Tibet vacation filled with a variety of experiences. Whether getting to Tibet from Kathmandu or China, a travel agent will be able to help with booking flights or train tickets. This is a trip where travelers can truly take away valuable knowledge about a fascinating culture; don't forget to ask lots of questions!
For the most up to date Tibet travel prices and information, feel free to contact Tibet Ctrip Travel Service, one professional Lhasa travel agent. This agent has a huge Tibetan service team and it is partially Tibetan owned. They devote themselves to support the Tibetan economy, culture and local Tibetan communities via their hard work in tourism.