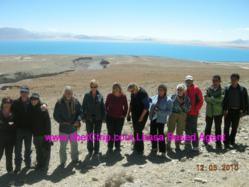 Tibet Budget Tour Options and High Quality with local Tibet travel agency www.tibetCtrip.com!
(PRWEB) February 25, 2013
Travel in Tibet on budget no longer means crowded tour busses and a less authentic experience. Thanks to Tibet Ctrip's new budget Tibet travel tours, travel groups can be matched with other travel groups to help lower costs per person. Budget travel options like these are great for groups of 2-3 people who are looking to avoid the costs of a private tour but don't want to travel with a large tour group. Some of the most popular and high quality Tibet budget tours include:
Tibet Cultural Tour-Lhasa 4 city culture tour: This tour includes some of Tibet's most famous cultural sites, all conveniently located in Lhasa and the surrounding area. Depending on travelers' preferences, the tour usually lasts 3-5 days and includes visits to Jokhang Temple, Barkhor Bazaar, and Potala Palace. Those with a little extra time can include a visit to Lake Namtso or an overnight trip to Shigatse.
Tibet Everest Tour in 8 or 9 days: For the adventurous at heart, this world famous tour begins in Lhasa (allowing time for acclimatizing to the altitude) and stops in Shigatse before embarking on the four-day trek to Mt. Everest Base Camp. Travelers will witness some of earth's most stunning scenery while enjoying time making friends with other group members on each day's hike. The difference for this Everest trip is that tourists will have one night stop in Shegar town to have further acclimatization which guarantees everyone can have better Everest adventure experience.
Cradle of Tibetan Culture Tour: Starting in Lhasa, travelers will begin learning about Tibetan culture at Lhasa's most famous sites! After spending time acclimatizing to the altitude in Lhasa, travelers will head for Tibet's ancient capital Tsetang, located in Yarlung Valley, the legendary origin of Tibetan culture. The first palace built in Tibet has sat atop a hill overlooking the valley for over 2000 years. Visitors can either hike the trail up the hill or pay a small fee to ride a horse.
Alternatively they have the Tibetan cultural and scenery tour itinerary combining the tour highlights in Lhasa, Namtso, and Gyantse as well as Shigatse city. For those looking to take in magnificent scenery while learning about a fascinating culture a long the way, the landscape and Tibet culture tour is a perfect get away. Monasteries with fantastic works of art, holy lakes, mountain vistas, and hot springs await travelers who embark on this adventure.
While these are the most popular, budget tour options are available for most of Tibet Ctrip's itineraries. They have many Tibet budget travel options as on their website. Their friendly staff understands that travelers sometimes need to cut costs but don't want to sacrifice the quality of their tour. Sharing a tour with another small group allows more one on one time with a native Tibetan guide, providing more opportunities to ask questions and get further involved in Tibetan culture. Travelers are encouraged to book early so they can be matched with groups that have similar Tibet travel interests!
Any information for how to set up a tour with the Tibet travel agency, please feel free to contact them. Asia travel writer Devin Moore authored this. Feel free to know Devin Moore, an independent economic analyst and travel writer in Missouri, USA.