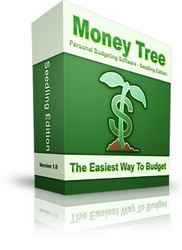 Philadelphia (PRWEB) January 5, 2009
YellowDot Software LLC has released the first product of their quick and easy personal budgeting software family. Money Tree - Seedling Edition was designed so that the entry level budgeters can start a budget in less than 20 minutes, and track their spending in just a few clicks using a simple, automated reminder system.
Having a budget is more important now than ever. Planning your money properly will prepare you to face any unexpected monetary challenges. Many people simply just don't know where or how to get started making a budget. Even more people just don't know how to stick to their plan after they create it.
The purpose of Seedling Edition was clearly defined before development began: To enable any person with any level of computer or financial knowledge to create a simple, effective budget while providing the essential tools needed to stick to their plan. This philosophy is clearly visible at all levels of YellowDot's personal budgeting software.
There's no mystery or hidden magic in Money Tree - Seedling Edition, just the strong fundamentals that will help anyone plan their money. You can see this for yourself at http://www.moneytreebudgeting.com when you watch the introductory video. The video walks you through every aspect of the personal budgeting software so you can see everything Money Tree has to offer, and how you can use it to create your own budget.
If you order your copy of Money Tree - Seedling Edition before January 16, 2009 you will be given membership to the YellowDot Founder's Club. Members of the Founder's Club will receive all upgrades and expansion packs of Money Tree absolutely free for life (worth hundreds of dollars). Check out the fastest and easiest personal budgeting software today.
About YellowDot Software LLC
YellowDot was founded in January 2008 to build a brighter future by making software that will seriously enrich people's lives.
###