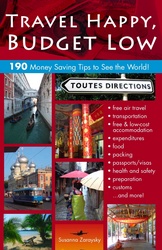 With the economy deteriorating, people are looking for do-it-yourself learning methods and budget vacation options and the Create Your World books fill this need
Cupertino, CA (PRWEB) February 17, 2009
Do you want to travel or learn a foreign language but don't have the money for an expensive package tour or intensive language class?
The economy is bad, but it's still possible to travel and learn foreign languages without breaking the bank! Susanna Zaraysky, author of Language is Music: 65 Fun and Easy Tips to Learn Foreign Languages and Travel Happy, Budget Low: 190 Money Saving Tips, is inviting you fellow travelers out there to join the "Create Your World" book contest. From February 17 to April 5, 2009, people can visit the contest website (http://www.createyourworldbooks.com) and read Zaraysky's Language is Music and Travel Happy, Budget Low online for free.
Do you have your own expertise in budget globetrotting and foreign language education and want to share it with others?
After reading the books, contestants can then contribute their best foreign language education and travel tips, and share their stories about how traveling abroad and being multilingual has changed their lives. (Readers don't have to contribute tips. It's optional.)
Readers must give their email address to gain free access to the books online, and then they can enter their tips and stories via an online entry form. The author will review all the tips to make sure they are relevant and post them on the website on April 7th for people to vote on from April 7 to April 14, 2009. The winning tips and stories will be published along with the authors' names on the Create Your World website and also in Language is Music and Travel Happy, Budget Low in May 2009. All winners will receive an autographed copy of whichever book their tip or story appears plus a prize from one of the contest co-sponsors: Travel Document Systems, Praxis Language Learning, Adventure Medical Kits, CallingCards.com, Le Travel Store and Kaehler World Traveler. The contest organizer will also include the winners' names in a news release to the media.
"In this Web 2.0 world, user generated content is vital for authors to publicize their work and improve their publications by allowing input from dedicated readers. My goal is for people to become global citizens by learning foreign languages and traveling abroad. I want them to 'create their world.' What better way to spread my message than by letting people read my books online for free and allow them to contribute content before I print? I wanted to experiment with the successful story submission program that made the Chicken Soup for the Soul series so popular," explains Susanna Zaraysky, author and founder of the Create Your World book series.
Language is Music focuses on making learning foreign languages fun, easy and affordable for anyone with a desire to communicate effectively with people around the world. By applying 65 simple tips to things you already do, such as listening to music or surfing the Web, you can experience the joy of "fluency" in any language without having to study abroad or spend money on private tutors.
While most travel guidebooks are location specific, Travel Happy, Budget Low gives us the practical tools for budget globetrotting. Zaraysky's 190 personal tips and 137 Internet resources cover everything from frequent flyer miles tricks to free accommodations. Other topics include health & safety rules, packing, the world of passports and visas, communication technology, transportation, unfamiliar food and more.
"With the economy deteriorating, people are looking for do-it-yourself learning methods and budget vacation options and the Create Your World books fill this need," explains author Susanna Zaraysky.
Born in the former USSR, Susanna grew up in California, lived in nine countries and traveled to 50. She studied 10 languages and learned seven. She is passionate about sharing her experience and belief that no matter one's economic status or past language learning experience, anyone can be multilingual and see the world.
(You can view videos about the Create Your World books at: http://www.youtube.com/CreateYourWorldBooks.)
###