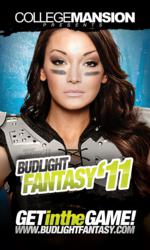 "Bud Light Fantasy is a multi-city media and promotion program that challenges football lovers to get involved in their community" - David Luber, CEO College Mansion
New York, NY (PRWEB) May 02, 2011
College Mansion, a leading experiential marketing company under the Mansion Minds Media Network has partnered with Bud Light to roll out an interactive, consumer-based marketing program around the 2011-2012 professional football season. Beginning today, female consumers ages 21+ can sign-up at http://www.BudLightFantasy.com for the chance to be featured in their participating city's 2012 Bud Light Fantasy Calendar. Upon registration, the online community can vote and recommend on who they believe is the city's most desirable free agent. The top two Bud Light Fantasy winners in each participating market will receive an all-expense paid cruise to the Bahamas.
Starting August 1st, consumers (male and female alike) will have the chance to participate in the Bud Light Fantasy "Pick'ems" component. Each participant will have the ability to set up their own profile and professional team on http://www.BudLightFantasy.com. Every week during the season participants will visit BudLightFantasy.com to pick all the games heads up. There are no spreads or points systems to learn. One (1) point will be awarded for each game that was picked correctly. Zero (0) points will be awarded for each game that was picked incorrectly. Points will accumulate and at the end of the regular season the team with the most points in each market will be crowned the 2011 Bud Light Fantasy Winner and will receive a VIP Super Bowl party thrown in their honor sponsored by College Mansion and Bud Light.
College Mansion and Bud Light want to reward "Team Pride" and creativity during the 2011 football season. Upload your wildest "Team Pride" photos on BudLightFantasy.com and Rob Gronkowski, Tight End of the New England Patriots will pick a winner at the end of the '11-'12 season. The ultimate "NFL Experience Package" will be awarded to the most creative fan. To find out what the ultimate prize package is, log on periodically to http://www.BudLightFantasy.com
Get up-to-date, real-time information regarding Bud Light Fantasy on Twitter @College_Mansion (http://www.twitter.com/College_Mansion).
Facebook keyword: College Mansion presents Bud Light Fantasy

College Mansion Presents: Bud Light Fantasy 2011
Bud Light Fantasy is an interactive program that challenges sports fans to get involved in their community as well as provide a platform for aspiring and established models
BudLightFantasy.com is the final on-line destination for both male and female football fans during the 2011-2012 season
Participate and win big. There are several components of Bud Light Fantasy that offer consumers the chance to win prize packages
Football fans can stay informed of what bar the Bud Light Fantasy girls will be at every Sunday
Participating markets: Philadelphia, Central/South Jersey, Delaware, Pittsburgh, Baltimore, Washington D.C., Seattle and Denver.
About Anheuser-Busch
Anheuser-Busch InBev is a publicly traded company based in Leuven, Belgiu, with an American Depository Receipt secondary listing. It is the leading global brewer and one of the world's top-five consumer products companies. A true consumer-centric, sales driven organization, Anheuser-Busch InBev manages a portfolio of well over 200 beer brands that includes global flagship brands Budweiser, Stella Artois, and Beck's, fast growing multi-country brands like Leffe and Hoegaarden, and strong "local champions" such as Bud Light, Skol, Brahma, Quilmes, Michelob, Harbin, Sedrin,
About Mansion Minds
Mansion Minds Inc., is an interactive media network company that helps enterprise businesses communicate their messages both online and offline to the international consumer. The company is made up of programming, creative, sales, and information technology professionals. For more information visit http://www.MansionMinds.com
Mansion Minds Media Network
300 Welsh Road, Building 4 Suite 160 | Horsham, PA 19044
(o) 215.366.5670 | (f) 215.565.2888
info(at)mansionminds(dot)com
http://www.MansionMinds.com | http://www.CollegeMansion.com
###