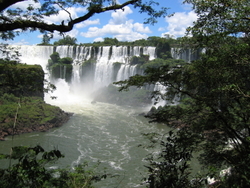 Buenos Aires, Argentina (PRWEB) October 8, 2008
With all of the constant reports about how expensive gas is, the falling and acquisitions of major financial institutions, and the weakening US dollar, it's tough to maintain a positive outlook on one's personal finances. It's well known that positivity and minimizing stress levels are a definite must in order to stay both physically and mentally healthy. And what's one of the best ways to achieve both of these? Getting away from it all and taking a much-needed vacation.
Argentina is most popular for its seductive dance, the Tango; for its Malbec wines; its mix of Spanish and Italian heritage evident in the country's cuisine and architecture; and more recently, for the strong US dollar to Argentine Peso exchange rate - which as of the date of this release was 3.17 ARS per US$1. All of these factors combined, make the 8- to 10-hour flight from most US cities to Buenos Aires worth the temporary in-flight claustrophobia. Flights should be purchased well in advance, however, as they can be pricey - the air fare itself can start at USD 499 but once taxes and other fees are factored in, the USD 1,000 mark is easily reached. The upside? Luxury lodging at 5-star hotels for a fraction of the expected rate and feasting on gourmet cuisines at fast-food prices.
For those who enjoy city life, a visit to the country's major metropolis, Buenos Aires, is in order. AboutAnywhere.com lists a number of plush Buenos Aires hotels catering to those in need of rest and relaxation while staying in touch with the cyber world. Below a small sample of Buenos Aires accommodations:
Hostería Meulen
From: USD 65
Complimentary: Internet service, shuttle services to the center of the city and to/from the airport, as well as a personalized American breakfast.
Claridge Hotel
From: USD 144
Complimentary: Internet service, parking.
Grand King Hotel
From: USD 69
Not complimentary but inexpensive: Wireless Internet is available in public areas and costs USD 3.00 per hour. Private parking with a reservation costs USD 7.00 per day.
Buenos Aires Wilton Hotel
From: USD 85
Complimentary: Internet service, breakfast buffet
In addition to the Buenos Aires Duty Free Shops that offer the best prices in fragrances, liquor and cigarettes, the street markets on Calle Once sell tons of local art, leather goods and furs, and antique treasures at prices that are barter worthy. And if your wallet strings aren't too tight, the Giorgio Armanis and Louis Vuittons amongst other high-end boutiques can be found on Calle Florida.
Those that are a little more nature loving and adventurous, are encouraged to check out Puerto Iguazú located at the border of Argentina and Brazil while also granting access to Paraguay. Iguazú Falls is one of the most popular attractions located a short distance from Iguazú hotels, allowing visitors to participate in water sports and rock climbing. Without a doubt one of the most awe-inspiring destinations one may ever visit. About-PuertoIguazuHotels.com provides discount hotel reservations in a variety of hotels near Iguazú Falls. Hotels in three different price points below:
Los Troncos Apart Hotel
From: USD 98
Complimentary: transfer to/from airport.
Esturion Hotel and Lodge
From: USD 189
Complimentary: continental breakfast.
Iguazú Grand Hotel and Casino
From: USD 320
Complimentary: buffet breakfast, Wi-Fi, transfer to Duty Free Shops in Buenos Aires.
One last great tip about vacationing in Argentina - the common percentage for tips is about 10% of the bill's total in bars and restaurants. Depending on your usual generosity, that's a 5-10% savings, based on US etiquette standards. However, diners will be tempted to over-tip the hospitable after consuming the delicious Argentine Criolla (typical Argentine cuisine) consisting of empanadas, tamales, and grilled steak, chicken, and pork to name a few.
So go ahead, spend a little cash (literally speaking) exploring the lovely country of Argentina. And learn to "budget" your time deciding which activity to participate in first, "cut back on" stressing about money, and "save" your sanity and that of those near and dear to you. Oh, and remember to bring your swimsuit and sunscreen - daytime highs are in the upper 80's to mid 90's from November through February.
About the company: AboutAnywhere.com operates the largest network of destination specialist Web sites in the world.
###