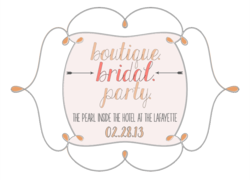 Buffalo, NY (PRWEB) February 19, 2013
Buffalo Wedding Florist, Buffalo's premier wedding and event floral boutique, is proud to be the exclusive floral vendor at the Boutique Bridal Party event February 28 at the Lafayette Hotel in Buffalo.
There, Buffalo Wedding Florist will provide a $50 gift and feature their bouquets and centerpiece designs for an expected attendance of 350 guests.
"We want to showcase that we do design work versus just specific flower bouquets," said Shannon Lach, Buffalo Wedding Florist's senior wedding consultant.
The event is special because it brings together some of Buffalo and Western New York's premier wedding vendors. These are vendors who provide services for bridal wear, photography, cakes, hair and makeup and wedding planning will be on hand to highlight their services for potential clientele.
While at the event, "Boutique Bridal Party guests can enjoy signature cocktails and complimentary hors d'oeuvres, as well as boutique displays, accessory and jewelry trunk sales, fashion shows, musical performances and more," as stated in the event's press release. "There will be party favors, as well as large prizes from each vendor and the first 75 brides in attendance will receive a complimentary bridal tote bag. Brides are encouraged to grab their favorite cocktail dress, their girlfriends and head downtown for evening of fun at a bridal show like no other."
The event runs from 5 p.m. to 9 p.m. and tickets for this event are just $8 with 100 percent of the proceeds going to benefit Compass House, a non-for-profit organization assisting WNY homeless youth. Brides are encouraged to purchase tickets at http://www.boutiquebridalparty.com rather than at the door to guarantee entry.
About Buffalo Wedding Florist: Buffalo Wedding Florist is a division of Plant Place and Flower Basket that specifically caters to weddings and wedding events. They have the ability to create and design bouquets and centerpieces specific to each wedding and bride, giving them a custom wedding the they've always envisioned. For more information and to see photos of their work, visit http://www.buffaloweddingflorist.com.