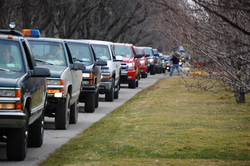 Lockport, NY (PRWEB) April 7, 2010
Heinrich Chevrolet, one of the region's leading Chevy truck dealers, was recognized by the World Records Academy for having the World's Largest Chevy Truck Parade. 231 Chevy trucks rolled 2.7 miles through Lockport from Outwater Park to Heinrich Chevrolet.
The event also rose over $5,000 for Niagara Hospice. Heinrich Chevy donated $10 for every vehicle that participated as well as sold food, t-shirts and raffle tickets for the cause.
"It was a nice reminder of how passionate and dedicated Chevy truck drivers can be," said Larry Bryer, sales manager. "It was a lot of fun, and all for a great cause."
Heinrich Chevrolet also awarded prizes for the following:
Truck with the Most Miles: 328,000 miles (1995 Silverado 2500HD owned by Jeanne Young)
Truck with the Least Miles: 32 miles (2010 Silverado 1500 Crew-Cab owned by Everett Bryer)
Most Accessorized Truck: Duramax Diesel with more modifications on it than one could count (2005 Chevy Silverado owned by Justin Ribbeck).
Most Unique Truck: Went to a man dressed as a Leprechaun, with his truck painted up accordingly (Bill Cummings)
Truck that traveled the furthest distance to attend event: Went to Dennis Mastie, who drove a black 2004 Silverado SS all the way from Alexandria, VA.
For more information on the event, or for photos and video, please visit http://blog.heinrichchevy.com/chevy-truck-parade-2010
About Heinrich Chevy
Heinrich Chevrolet, your Buffalo Chevy Dealers, have proudly served Buffalo, Lockport, Tonawanda, Niagara Falls, and the rest of the Western New York for over 40 years. For more information and opportunities contact Kurt Wojda at 716-434-6681.
###