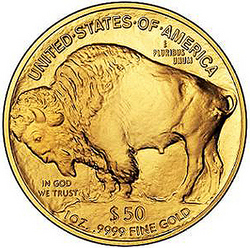 Universal City, CA (Vocus) September 2, 2010
Buffalo bullion gold coins are minted to compete directly with the most popular gold bullion on the market today to include the Canadian gold maple leaf, Austrian gold philharmonic and Chinese gold panda. Since the minting of Krugerrand gold, countries have adapted to a 1(one) once standard in the minting of government backed bullion. Most bullion coins minted today are backed with a guarantee of weight and purity by that country and varies in price due to the actual gold content in the coin itself.
The United States is the only country to offer two different one ounce gold bullion coins of different purity. The American eagle was the first gold bullion to be minted in the US since the confiscation of gold in 1933 due to the great depression. The coin has small amounts of alloy to ensure a minimum of scratching and marring, however, it makes the coin 22 karat instead of 24 karat. The American eagle gold coin was the first minted in 1986 and by law must be produced to keep up with demand.
Buffalo gold bullion coins where first minted in 2006 as a response to the global market and international gold buyers. The financial crisis effecting every country has raised alot of questions about fiat paper currencies like the US dollar. China which is now the #2 economic world power has a 10 year buying program for their central banks. India, Japan and Korea also have similar programs and are encouraging their citizens to hedge against the market with the gold rate exchange. As more individuals do their research they are opting for gold that is most recognized and accepted internationally.
Gold dealer Regal Assets offers only gold that has world wide acceptance and points out that the Krugerrand is the most traded and is also 22 karat gold like the American eagle coin. Specialist say the most important factor in gold investing is to actually take physical possession and have gold shipped to your home. Their new site allows customers to buy gold online and have it shipped Fedex but recommends the first time gold buyer contact a specialist with questions or concerns at 1-888-700-9887 or thru live chat at http://www.RegalGoldCoins.com.
###