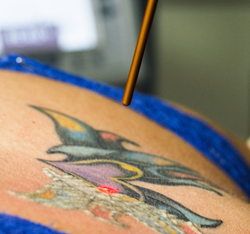 We have been performing tattoo removal for over a decade now, and it became obvious that we needed a solution for difficult-to-remove ink colors
WILLIAMSVILLE, NY (PRWEB) October 20, 2014
Dr. Joseph Neiman of Neiman Dermatology and Hair Transplantation has upgraded to the Astanza Trinity to better treat resistant tattoos – now providing western New York with effective laser removal for tattoos of virtually all colors. Trading in his RevLite® laser for the Astanza Trinity, Dr. Neiman is now capable of removing resistant black, vivid blue, and green tattoo inks that could merely be faded before.
"It is my goal that every patient receives the highest level of care at my practice. We have been performing tattoo removal for over a decade now, and it became obvious that we needed a solution for difficult-to-remove ink colors," said Dr. Neiman. "We chose the Trinity to assure that every patient is treated with the best, most versatile equipment available and leaves our office with great results."
The Astanza Trinity laser is the most powerful multi-wavelength tattoo removal system in the world. Neiman Dermatology and Hair Transplantation has the ability to remove the most colorful tattoos with ease due to the Trinity's superior specifications – including standalone Nd:YAG and ruby lasers with industry-leading peak power. The Trinity even allows for faster removal of black tattoos and is safe on most skin types.
"Astanza is always proud to have esteemed clients like Dr. Neiman, especially when they have experience with laser tattoo removal technology," said Ryan Lambert, president of Astanza. "When a skin specialist such as Dr. Neiman seeks out Astanza technology to stay at the leading edge in the field, it's a powerful statement about our systems."
ABOUT DR. JOSEPH B. NEIMAN, MD, FAAD & NEIMAN DERMATOLOGY AND HAIR TRANSPLANTATION
Dr. Neiman and the staff of Neiman Dermatology and Hair Transplantation specialize in the health of skin, hair, and nails. Since 1980, Dr. Neiman has practiced as a board-certified dermatologist. Prior to work in private practice, Dr. Neiman was educated and trained at New York University, University of Tennessee Medical School, Brown University, and in the Department of Dermatology of the State University of New York at Buffalo.
Neiman Dermatology and Hair Transplantation is committed to attention to detail with every patient and seeks to find great results, renewal, and confidence with each procedure. The services offered at Neiman Dermatology and Hair Transplantation include laser tattoo removal, laser hair removal, hair transplantation, cosmetic injections, and more. For more information or to schedule a free consultation, call (716) 688-0020 or visit http://www.NeimanDermatology.com. Neiman Dermatology and Hair Transplantation is located at 1140 Youngs Road, Williamsville, NY 14221.
ABOUT ASTANZA
Astanza is a leading manufacturer of aesthetic lasers with a unique focus on the application of laser tattoo removal. In addition to developing cutting-edge medical laser devices such as the Duality, Eternity, and Trinity laser systems, Astanza offers its customers a complete range of training, marketing, and business consulting services specific to achieving success in this growing field.
Astanza Laser, Inc. is headquartered in Houston, Texas with customers throughout North America and Europe. For product, investor, or press information, call 800-364-9010, or visit http://www.AstanzaLaser.com.
Astanza®, Duality®, and Trinity® are registered trademarks of Astanza Laser, Inc.
RevLite® is a registered trademark of Cynosure, Inc.