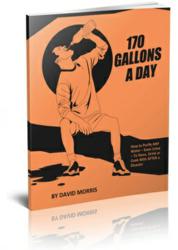 When it's time to get out of dodge, Absolute Rights' Special Report gives its readers the power to stay alive.
Austin, TX (PRWEB) April 30, 2012
Bug out bag essentials are the items that will make surviving a horrible and deadly disaster possible, said the most recent AbsoluteRights.com article. The survival industry has unfortunately tainted the public perspective of "preppers" and turned it into a marketing system that preys on fear. It's causing many otherwise smart people to ignore the very real threats produced by both natural and man-made disasters.
That's why Absolute Rights has published the ultimate answer to disaster emergency preparedness with their Special Report "Get Out Of Dodge." It's a 63-page digital e-book that's available to Absolute Rights subscribers with all the evacuation, communication, and protection information they could ever need, said the article.
The Special Report helps people rely on their skills and preparation in weather emergencies such as floods, hurricanes, blizzards, and earthquakes. It also provides tactics for surviving riots, terrorist attacks, and nuclear disasters. And of course, it emphasizes the importance of packing a bug out bag well in advance of any necessary evacuation.
Emergency preparedness planning has taken on a whole new meaning, said the article. Seemingly every week brings a new disaster to the front page of the newspaper. Embracing the "Get Out Of Dodge" system will ensure that preparation is done effectively and efficiently, said the article. Limited time means decisions need to be made quickly, and the Special Report aids in the decision-making.
It may be hard to believe, but the article said being prepared to leave an area in less than two minutes with everything needed to survive for days is a total possibility. And it can be done without going to extremes or breaking the bank. When it's time to get out of dodge, Absolute Rights' Special Report gives its readers the power to stay alive.
Absolute Rights informs patriotic Americans on their given rights, plus helps protect those rights from government intrusion. Most importantly, it prides itself on alerting people when their rights are being threatened, creating an active and informed community. For more information, be sure to visit AbsoluteRights.com.
The article said trying to prepare on one's own and making mistakes go hand-in-hand. There's no point researching and testing different survival strategies when all the work has already been done. For a full list of bug out bag essentials and other invaluable pieces of survival advice, the article said to become an Absolute Rights subscriber and get instant access to "Get Out Of Dodge."