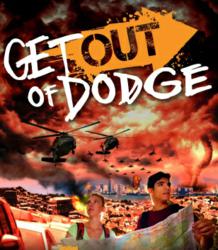 The Special Report helps keep people out of harm's way with a complete disaster education.
Austin, TX (PRWEB) April 25, 2012
The most recent AbsoluteRights.com article said to compile a bug out bag packing list and tear it in half. Then tear it in half again. Realistically, that's the number of items people will have time to gather, stuff in a bag, and take with them in a panicked survival scenario. Unless, of course, they perfect their list and pack their bags well before a disaster happens. In that case, people can equip themselves with the best survival, recovery, and identification items possible while maximizing limited space with the most important things.
"Get Out Of Dodge" is Absolute Rights' latest Special Report, and it was created to help anyone reach total disaster preparedness. It includes the particular measures involved with a variety of disasters, both natural and man-made. Whether it's a hurricane force wind or a wild mob of rioters, a household front door can only hold so much, the article said.
Government agencies can frequently take three days to assign jurisdiction, organize support crews and deliver supplies to a disaster-affected area, said the article. It's left up to each and every person to take responsibility for their own survival and provide the highest chances of getting out alive for their families and loved ones.
Government support systems and nongovernmental organizations aren't going to provide the most immediate and appropriate disaster aid. The article said it's up to individuals and their communities to develop customized and relevant emergency preparedness planning.
"Get Out Of Dodge" gives instructions on doing that, and includes extensive bug out bag information. The items suggested by the Special Report range from basic household necessities to things no one would ever think of. The AbsoluteRights.com article said every piece of advice in "Get Out Of Dodge" holds value, but its bug out bag procedures are worth the most.
The Special Report helps keep people out of harm's way with a complete disaster education. And most crucially, it tells when evacuation is the only hope, and provides help on bugging out when it's deemed necessary.
Absolute Rights informs patriotic Americans on their given rights, plus helps them claim and protect those rights from certain imposing entities. Most importantly, it prides itself on alerting people when their rights are being threatened, creating an active and informed community. For more, visit AbsoluteRights.com.
Proper preparation involves hard work and deep thought, and it also involves a strong source of information. That's what "Get Out Of Dodge" is: a quality outlet of the most up-to-date and relevant emergency preparedness info there is. The article said to get a copy of the Special Report and start the perfect customized bug out bag packing list right away.