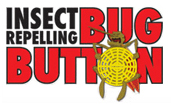 Keeps Bugs Away
San Marcos, California (PRWEB) June 06, 2011
Now at http://www.bugbutton.com users can easily navigate through the eye catching pages and learn more about each unique product and its uses. The new website allows users to have an opportunity to chat with Evergreen staff live and direct if they have any questions! The new site is fully educational containing detailed information ranging from the various types of insects that their all-natural insect repelling products protect against and even what types of natural oils their product uses and how they are an integral part of their effectiveness. Users from all over the continental United States are bound to benefit from the educational spin that Evergreen Research™ has used to remake their website.
NEW FEATURES
At the click of a button users can now look up what different customers experienced while using the all natural insect repelling products. Customer reviews are featured on the home page for easy access.
Also located on the home page are tabs labeled "Adventures", "Family Activities" and "Outdoor Sporting Activities". These links work great for coming up with ideas of how to enjoy this summer outdoors. Each link leads you to a separate page that contains the supplies needed to do the activity of your choosing, where you can perform this activity and also ways to keep everyone safe from mosquitoes while you are out enjoying these different activities.
"We know that the reason this company is so successful is thanks to our loyal customers, we know that they rely on us for reliable protection and we keep providing that to them. They always call us and let us know how well they work and what kind of activities they like to do while using them, we love those phone calls." –CEO, Evergreen Research™
The "order now" buttons are incorporated throughout the website making it an easy and fast way to skip some steps and end up at the check-out page. Evergreen Research™ knows that there are loyal customers that already love the Superband™ and just want a quick and easy way to get their hands on some more. Bugbutton.com provides an alternative for those customers that are too busy to drive to the store. Now they can simply click their way through and have them sitting on their front doorstep before they know it.
Evergreen Research™ is always excited about their new customers. Each unique product is linked to a detailed product description that help introduce the Bugbutton™, the Superband™ and the Mosquito Eliminator™. It also works as an info sheet to answer the most frequently asked questions about their basic functionality.
Conveniently located just along the right hand wing of the details page are some very important links that lead you to different pages like "repels insects." This page for example, takes the user to a complete and extensive list on every single insect the Bugbutton™, Superband™ and Mosquito Eliminator™ protect against; including where these insects can be found and how you can protect yourself against them. Additionally the "200 hours" page includes the entire list of products and even has tips on how to make these products all last longer. The page labeled "Natural Oil" takes the user to an informational page that talks about the all-natural insect repelling oils used in the making of Evergreen Research™'s all natural insect repelling products. The link for "Outdoor Activity" takes you to a page full of tips on how to enjoy the outdoors without worrying about pesky, biting insects.
The "quick links" conveniently located at the bottom of the home page serve to assist those who want a different alternative to purchasing through the website. Evergreen Research™ works with different retailers and also caters to those interested in becoming a distributor. These types of customers have a form which is easy to download and fill out to get the process started.
"We are always looking for new passionate people to get involved with the Superband™, Bugbutton™ and Mosquito Eliminator™. The best is when we get a new store ordering a smaller quantity for the very first time and then they call back exactly one week later letting us know that they need some more because they've already run out. We love to hear when these start flying off the shelves." –Vice President of Sales, Evergreen Research™
Displayed prominently on the lower part of the home page is Evergreen Research™'s contact information which comes with an international contact number to accommodate the ever increasing globalized economy and demand.
Now it is possible to create a customer account to make the checkout process faster, store multiple shipping addresses and view and track user's orders. This makes Evergreen Research™'s loyal customers extremely happy as they won't have to re-type information every time they wish to re-order. This makes the process of re-ordering much more efficient and beneficial for both counterparts.
Customers now have the unique opportunity to get the answers to all of their questions at the click of a button. This feature virtually makes an Evergreen Research™ representative at your disposal for any questions you may have while browsing all of the products available. Evergreen Research™ is always excited to add another dimension that puts them closer to their customers and their needs.
Aside from the standard methods of payment, which include Visa, MasterCard or American Express, Evergreen Research™ is now offering the Paypal method of payment. Evergreen Research™ feels that in this day and age it should offer a secure option for its customers to be able to get the products they need without having to worry about their personal identity getting stolen. Paypal method of payment provides this safe option and additionally this added feature gives the power for anyone across the globe to purchase any of Evergreen Research™'s products.
ABOUT EVERGREEN RESEARCH™
At Evergreen Research™, our top priority is to produce environmentally safe products that are effective for our customers. At our San Diego research facility, dedicated scientists carry out testing and research to combine the best natural botanicals with current technology. Evergreen Research™ ensures that all of our products are not only environmentally safe & non-toxic, but also exceptionally effective.
Chemicals that people have used in the past to repel insects are becoming suspect in a wide variety of illnesses and diseases. People no longer want to take the chance of exposing themselves and their children to dangerous toxins just to enjoy the outdoors. Merchandisers are finding that products are being banned that were considered safe a short time ago. People are demanding natural alternatives and Evergreen Research™ is providing great choices.
At Evergreen Research™ we strive to make the world a better place and provide incredibly marketable products at the same time. We invite any input into our continued quest to provide outstanding products.
# # #