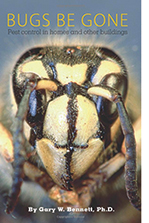 Cleveland, OH (PRWEB) May 21, 2013
Many home and building owners want to prevent or rid their home of insects like bed bugs, cockroaches, ants, termites or bees. Many insects invade homes, damage structures, eat and contaminate food, inflict painful bites and stings, and transmit debilitating and deadly diseases to people and their pets. While there is no magic solution to rid yourself of the insects, the "Bugs Be Gone" illustrated guide is a resource no homeowner should be without.
"Bugs Be Gone" is a 234-page paperback with dozens of photographs and diagrams to assist consumers (and pest management professionals) in basic pest identification, control and exclusion.
The practical guide is broken down by pest type, where they might be found, and the public health threats they pose. Each chapter spotlights a structural pest type and is chock full of How To information regarding getting rid of pests in an environmentally friendly manner. Many pests will require the services of a professional, and this book provides that guidance, as well as tips on how to work together with a service provider. "Bugs Be Gone" 11 chapters include:
Introduction to Pest Prevention & Control
Cockroaches
Ants
Termites
Other Wood-Destroying Pests
Pests of Foods & Stored Products
Biting Pests
Stinging Pests
Pests of Drains, Sewers & Damp Locations
Occasional Invaders & Miscellaneous Pests
Fabric & Paper Pests
To purchase "Bugs Be Gone" for $29.99 via Amazon, visit mypmp.net/shop.
About the Author
Gary W. Bennett, Ph.D., is a Professor of Urban Pest Management with Purdue University's esteemed Entomology Department. Dr. Bennett is co-author of "Truman's Scientific Guide to Pest Management Operations." Dr. Bennett possesses decades of experience assisting PMPs and consumers in the identification, control and exclusion of structural pests.
About Pest Management Professional (PMP)
PMP is the leading technical journal serving the industry for 80 years. It is the only industry publication that certifies and guarantees its print and digital edition circulation and e-newsletter and website statistics with an independent, verified media audit. The PMP Media Network has 33,137 unique subscribers and boasts the industry's highest owner/president and operations reach.