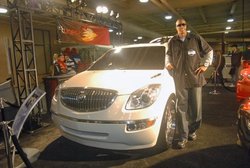 Together, AutomotiveStreetStyle.com and Wheel Concepts Nation provide a car show that will have over 400 custom cars including classics, luxury, exotic imports and monster trucks
Atlanta, GA (PRWEB) February 20, 2008
Jerome "Junk Yard Dog" Williams' (JYD) custom 2008 Buick Enclave "Urban CEO Edition" has been making the rounds in Canadian car shows including the Toronto Speed-O-Rama, the Canadian International Car Show February 15-24 and the Performance World Custom Car & Truck Show March 14-16, 2008. For two months the Urban CEO Edition Buick Enclave will be featured in Toronto's largest and best custom car shows exhibiting with GM.
Since his retirement from the NBA, Jerome Williams has gained recognition as a custom car designer and aficionado and was asked by Buick last year to customize the award winning Enclave for the SEMA 2007 convention.
"As an events producer, looking for features has always been a challenge. After working with Jerome Williams during the Speed-O-Rama Show in Toronto, it's obvious that his passion and work ethic on the court extends to the automotive culture." said Edmund Manasan, CEO of Racemode, Inc. and automotive industry enthusiast.
The Canadian International Car show is the next stop for the Urban CEO Edition Enclave February 15-24 at the Metro Toronto Convention Centre.
"Toronto is still like home for me and bringing the Enclave to the various Canadian shows is like sharing the next phase of my career and passion for custom cars with my Canadian family," said Williams. "I would like to thank GM Canada, Speed-O-Rama, The Canadian International Car Show, Performance World Custom Car and Truck Show and Race Mode, Inc. for bringing me and the Buick Enclave to town for the shows."
The Performance World Custom Car & Truck Show will also exhibit the Buick Enclave in the GM booth March 14-16 at the International Centre, Toronto, Ontario.
Jerome is also the owner and co-host (with Whitney Harchanko) of AutomotiveStreetStyle.com a web television channel that features the latest in after-market customs, the accessories that make them hot and the celebrities and enthusiasts who buy them.
"In 2008 we'll launch the AutomotiveStreetStyle.com National Trailer Tour that will showcase my designs including the Buick Enclave and my 1964 Chevy Impala," said Williams. The AutomotiveStreetStyle.com trailer has been custom designed to provide an interactive experience and includes; a plasma television, sound system, product kiosks and displays. "Our trailer creates an event wherever we go and we're looking forward to showcasing our team and sponsors," added Jerome.
AutomotiveStreetStyle.com also partners with Staten Island New York based Wheel Concepts Nation to present the largest Custom Car Show in the tri-state area by producing the New York City Custom Auto Show, May 18, 2008 at Pier 94.
"Together, AutomotiveStreetStyle.com and Wheel Concepts Nation provide a car show that will have over 400 custom cars including classics, luxury, exotic imports and monster trucks," said Rob Gullery, President of Wheel Concepts Nation. "Our show features vehicles that are owned and driven by some of the most devout automobile enthusiasts in the world and that sets the New York City Custom Auto Show apart from the rest."
AutomotiveStreetStyle.com is the premier online resource for custom cars, automotive reviews and after market vehicle products. Jerome Williams is the President & CEO of Automotive Street Style, LLC based in Bethesda, MD. Automotive Street Style, LLC is a Minority Business Enterprise.
For additional information on Jerome "Junk Yard Dog" Williams please visit AutomotiveStreetStyle.com .
If you are interested in tickets, exhibiting or sponsoring the New York City Custom Auto Show May 18, 2008 at Pier 94, please visit New York City Custom Auto Show Website.
For media, booking or customization inquires please contact:
Edward Cates
770.865.8170
###