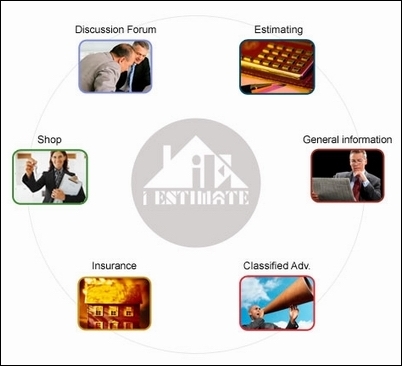 Prior to setting up iEstimate, I had been estimating build costs for builders and home owners, on a manual basis, for a number of years
London, United Kingdom (PRWEB) December 1, 2006
Estimating build costs is one of the most difficult, yet essential aspects of almost any building project. Having the ability to accurately estimate the costs will give you invaluable insight and control over your building project. Now, iEstimate.co.uk gives you the ability to take control of your own building project using their web-based estimating tool, no matter what your previous knowledge of the construction industry is.
Furthermore, the tool offers you the ability to estimate a rebuild cost of your current property to ensure that your property is correctly valued for home insurance. The estimating tool on iEstimate.co.uk can help with:
· planning a construction project (large or small)
· rebuild valuations for home insurance
· self build project planning
· identifying the best alternative from a choice of construction plans
· pricing a construction project and verifying your financial options
· avoiding being overcharged by builders
At a fraction of the cost of conventional build cost estimating, usually performed by quantity surveyors and potentially running into hundreds of pounds, the iEstimate tool represents unbeatable value and offers results in minutes, rather than weeks as most conventional methods do. Furthermore, you are in total control of your estimate, and can take as little or as much time as you need. The site new site launches with a special promotional offer of half price on all estimate subscriptions purchased before 1st of February, 2007.
Neil de Villiers, one of the owners of iEstimate.co.uk, was asked what led to the creation of iEstimate. "Prior to setting up iEstimate, I had been estimating build costs for builders and home owners, on a manual basis, for a number of years," de Villiers said. "The extent to which many builders overcharge for projects became alarmingly clear. They were taking advantage of 'Joe Public' who had no idea of the construction industry, let alone build costs. I felt that I had a responsibility to do something about it. I decided to give the public a chance at a fair deal. 'Joe Public' needed an accessible and simple tool to verify quotes against.
"He needed to be able to tell whether a quote was realistic or sky-high. My business partner Samuel Blankson, also experienced difficulties on a different scale. One of his investment properties had been damaged in a fire. Although he had buildings insurance, his insurers claimed that he was under insured and therefore made claiming for the damages extremely difficult, cumbersome and stressful. If his property's rebuild cost had been valued correctly, there would have been relatively few problems to deal with during the claim.
"A little research into these 2 markets confirmed the level of the problem in both cases and this made us both decide to do something about it. iEstimate was created to help all property owners, home improvers and self-builders get the best deal possible. The simple knowledge of the correct build or rebuild cost places the control firmly back in the hand of the consumer, and not the unscrupulous builder."
The new site will also offer many useful articles on various aspects of the construction process, builders jargon, glossary of terms, guidance on plot finding, etc.
In celebration of the official launch of the site, iEstimate.co.uk is offering all estimate subscriptions purchased before the 1st of February, 2007 at half price.
For more information visit http://www.iEstimate.co.uk.
###