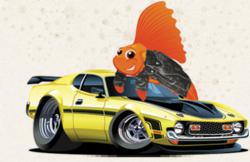 If you are trying to build up your emergency fund, a budget will be your best friend.
Los Angeles, CA (PRWEB) August 08, 2012
RoadFish.com men's lifestyle and finance magazine today released their observations about ways to build a recession-resistant emergency fund, following an article featured in the Personal Finance Olympics on GoBankingRates.com. RoadFish.com's take on this may help consumers as a result of the U.S.'s slow climb out of the Great Recession, and the high unemployment rates still plaguing the country.
GoBankingRates.com recently featured an article in their Personal Finance Olympics section offering advice and how-to tips for consumers to start and build upon an emergency fund that would be accessible to them in a worst-case scenario. Tips included setting aside liquid cash that is both safe and readily accessible, setting up automated electronic transfers into savings so the money isn't missed as much, and paying off debt if one ever hopes to truly be able to save without owing a lot in interest. As an added benefit, paying down debt will help increase one's credit score and spare the added expense of paying excess interest.
RoadFish.com encouraged consumers to use a monthly budget to track their spending and determine how much they could put into an emergency fund. RoadFish.com's Senior staff writer is quoted as saying, "A monthly budget is, in my opinion, the greatest tool out there to handle personal finances. It lets you know where your money is going, what your spending patterns and habits are, where you can afford to cut back, and how much is left at the end of the month for savings. When I started keeping a budget, I realized how much I was spending on things like cable television and Starbucks, and was able to cut back dramatically and put that money into a savings account. I strongly urge everybody to keep a monthly budget, whether it's a simple Excel spreadsheet or some sort of app that tracks spending. If you are trying to build up your emergency fund, a budget will be your best friend."
Investopedia defines "emergency fund" as an account designated for things like job loss or major illness, but it could also include expenses to pay for the death of a loved one, a car repair, or any other unexpected large expense that comes up. The purpose is to provide financial security and to a large extent prevent the use of racking up high-interest credit card debt. Investopedia states that the common goal for an emergency fund is to save at least three months worth of living costs, which is what most financial planners suggest doing.
The U.S. Bureau of Labor Statistics(BLS) recorded the unemployment rate as being 8.3 during the first week of August. According to the BLS website, the states that had the highest amount of unemployment as of June 2012 were California with 10.7%, Rhode Island with 10.9%, and Nevada coming in at 11.6%. Although these numbers are not quite as high as they were two years ago (in October 2010, California had an unemployment rate of 12.4%, Nevada's was 14.0%, and Rhode Island's was 11.9%), they are still significantly higher than pre-recession numbers.
According to the above-mentioned GoBankingRates.com article, the Personal Finance Olympics is a contest being hosted by GoBankingRates.com and FinCon12 in which writers submit original and relevant articles concerning finance topics such as building credit, reducing debt, saving money, and new banking technology. Competitors will have their articles published on GoBankingRates.com and will be in the running for medals as well as cash prizes, based on reader votes.
About RoadFish.com
RoadFish.com is a popular online men's magazine that covers topics like lifestyle, personal finance, travel, and current events. Most of RoadFish.com readers are men in their 30's and 40's who have already gained success in both their personal and business lives, and are striving towards their next big goal. RoadFish.com men's lifestyle and finance magazine includes articles about men's luxury items, hot chicks, divorce tips, food and hotel reviews, and advances to personal finance technology like apps. It is owned and operated by Purpose Inc.