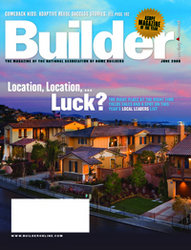 BUILDER's list reveals just how deeply housing market volatility impacts the building industry
Washington, DC (PRWEB) June 26, 2008
June's issue of BUILDER magazine highlights the top 10 builders in the 50 fastest growing metro areas and how they stayed successful despite housing market decline. BUILDER's annual "Local Leaders" feature uses Penn Construction, Ball Homes and other builders as examples of how, during times like these, serendipity sometimes overshadows strategy in the home building industry.
Last year the home building industry faced the biggest single-year decline in housing market history, with new home sales falling 26 percent. Many builders on the "Local Leaders" list succeeded through fortunate timing and scaling back of their businesses to meet lower demand within the housing market. Other builders broadened their sales approach, offering customization options and pricing advice.
"BUILDER's list reveals just how deeply housing market volatility impacts the building industry," said Editorial Director Boyce Thompson. "Builders have realized they must take economic cycles into account if they want long-term success."
"Second Life," a BUILDER design feature, examines three adaptive reuse projects and the lessons builders can learn from their successes. During a time when the home building industry still reels from the housing market crunch, adaptive reuse projects often net builders a premium because of their ability to preserve local character and boost tax bases.
In one example, a seminary outside Washington D.C. is reincarnated as a mixed-income residential community. In another, builders transform a cold storage facility into loft-style housing. Both projects stemmed urban decline, reduced energy consumption and saved demolition waste--eco-friendly traits that are increasingly popular within the building industry.
BUILDER'S Web site (builderonline.com) extends coverage of these adaptive reuse projects with photos and site plans. Also online, BUILDER continues its 30th anniversary coverage with a look at the "Local Leaders" of years past. Senior Business Editor Ethan Butterfield examines how national builders have become a growing presence in local markets, and what it means for the building industry.
For breaking news, new episodes of BUILDER TV and other BUILDER features, including past issues of BUILDER magazine, visit builderonline.com.
About Hanley Wood
Hanley Wood, LLC, is the premier media and information company serving housing and construction. Through four operating divisions, the company produces award-winning magazines and Web sites, marquee trade shows and events, rich data and custom marketing solutions. The company also is North America's leading publisher of home plans. Hanley Wood Business Media (Washington, D.C.), publishes 36 award-winning residential and commercial construction titles, including BUILDER, REMODELING, CUSTOM HOME, CONCRETE CONSTRUCTION and residential architect. Hanley Wood Business Media also offers the construction industry's foremost collection of Web sites, including BUILDER ONLINE, REMODELING ONLINE, and ebuild, the comprehensive online guide to building products, as well as the largest collection of house plans online through eplans.com and Dream Home Source.
###