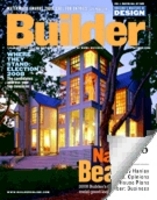 Great stress can lead to great innovation, and we're seeing that both in 2008's Builder's Choice Awards and the Wm. S. Marvin Hall of Fame for Design Excellence
Washington, D.C. (PRWEB) October 27, 2008
BUILDER magazine's annual Builder's Choice Awards prove that residential design still matters in today's building industry. This year's Builder's Choice winners honor form and function, using residential design to tackle building industry challenges such as rising fuel costs and sustainability issues.
In addition to the Builder's Choice Awards, BUILDER's October issue also honors the latest inductees to BUILDER's Wm. S. Marvin Hall of Fame for Design Excellence. Even during the housing industry's downturn, honorees David Baker, Alan J. Green, and Stephen Muse made invaluable contributions to residential design.
"Great stress can lead to great innovation, and we're seeing that both in 2008's Builder's Choice Awards and the Wm. S. Marvin Hall of Fame for Design Excellence," says BUILDER's Editorial Director, Boyce Thompson. "Builders understand that despite the turbulence of the current building industry, residential design can be a smart selling point."
BUILDER also reveals the selling points of 2008's presidential candidates in the October feature, "Where They Stand." This presidential election is a crucial one for the home building industry. BUILDER surveyed readers on their top domestic concerns, then used the details to examine the presidential candidates' platforms on key home building industry issues.
While builders are traditionally conservative, both presidential candidates have compelling arguments for their platforms this presidential election. The article summarizes both presidential candidates' stances on the recent credit bailout, immigration reform and other issues important to the home building industry.
Builders can find complete survey results and discover where McCain and Obama stand on their top presidential election issues by visiting the BUILDER Web site and clicking on the "News" tab. Also online, 2008's Builder's Choice Award winners show how design can encourage prospective buyers to make a purchase. Users can not only view exclusive slideshows from this year's Builder's Choice Awards but also check out past inductees to BUILDER's Wm. S. Marvin Hall of Fame for Design Excellence.
For breaking news, past issues of BUILDER Magazine and other features, visit BuilderOnline.com.
About Hanley Wood
Hanley Wood, LLC, is the premier media and information company serving housing and construction. Through four operating divisions, the company produces award-winning magazines and Web sites, marquee trade shows and events, rich data and custom marketing solutions. The company also is North America's leading publisher of home plans. Hanley Wood Business Media (Washington, D.C.), publishes 36 award-winning residential and commercial construction titles, including BUILDER, REMODELING, CUSTOM HOME, CONCRETE CONSTRUCTION and residential architect. Hanley Wood Business Media also offers the construction industry's foremost collection of Web sites, including BUILDER ONLINE, REMODELING ONLINE, and ebuild, the comprehensive online guide to building products, as well as the largest collection of house plans online through eplans.com and Dream Home Source.
###