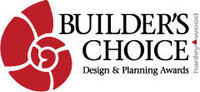 We're committed to growing with these formats and continually raising the bar for quality integrated content.
Washington, DC (PRWEB) November 1, 2007
Hanley Wood recently extended its editorial coverage of the annual Builder's Choice Design & Planning Awards to include exclusive online content such as slideshows, supplemental articles and a special Builder's Choice e-newsletter. These new online features complement BUILDER magazine's October issue, which dedicates over 50 editorial pages to the 27th annual Builder's Choice Awards.
This is just one of many ways Hanley Wood supplies the home construction industry with integrated content across all media channels--and the industry is responding with interest. Last week, page views for the Builder's Choice section of BUILDER Online exceeded 20,000 per day.
"By showcasing the top builders and architects, the Builder's Choice Awards inspire housing professionals around the nation," said BUILDER Editorial Director Boyce Thompson. "That's why providing integrated content is so important. Not all could attend the October 11th awards gala, but BUILDER's online and print media ensure its influence will continue for many months to come."
Online Builder's Choice features include a Brightcove slideshow displaying photos of winning projects. Each of the 48 winners has an individual page with design details and similar slideshows. These pages are listed by category along with judges' biographies and Wm. S. Marvin Hall of Fame winners.
Other BUILDER Online content includes an exclusive story by Ethan Butterfield that supplements his article in BUILDER Magazine's October issue. Called "Gloomy Forecast," the story offers a regional breakdown of the nation's housing market. It follows the third installment of "When Will It End," an collection of expert analyses of the housing market decline.
"From its inception, BUILDER has surrounded the builder community with award-winning resources and helpful career tools. But today's community utilizes many more formats than it did years ago," said Publisher Jeff Calore. "We're committed to growing with these formats and continually raising the bar for quality integrated content."
For more information about the Builder's Choice Design & Planning Awards and their media coverage, visit http://www.BuilderOnline.com.
About Hanley Wood:
Hanley Wood, LLC, is the premier media and information company serving housing and construction. Through four operating divisions, the company produces award-winning magazines and Web sites, marquee trade shows and events, rich data and custom marketing solutions. The company also is North America's leading publisher of home plans. Hanley Wood Business Media (Washington, D.C.), publishes 36 award-winning residential and commercial construction titles, including Builder, Remodeling, Custom Home, Concrete Construction and residential architect. Hanley Wood Business Media also offers the construction industry's foremost collection of Web sites, including Builder Online, Remodeling Online, and ebuild, the comprehensive online guide to building products, as well as the largest collection of house plans online through eplans.com and Dream Home Source.
Founded in 1976, Hanley Wood is a $250 million company owned by affiliates of JPMorgan Partners, LLC. CCMP Capital Advisors manages the Hanley Wood investment for JPMorgan Partners.
###