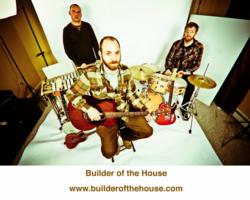 Builder Of The House releases I Am A Tidal Wave - Record release show at Empire Dine & Dance in Portland, ME - May 31st
Portland, ME (PRWEB) May 10, 2012
"With some musical comparisons to Jack Johnson and Elliott Smith, Cimitile has that whispery-thin, 'maybe I care, maybe I don't' style of singing that has become really popular in recent years. The difference here is that Cimitile's lyrics are so meaningful and deep that the contradiction of a carefree spirit within the music composition makes for an interesting ride." - Portland Press Herald
"I Am A Tidal Wave," Builder of the House's debut, is a release inspired by indie folk greats such as Bright Eyes and Sufjan Stevens, but by adding elements from an eclectic variety of music, Rob Climitile has already established his own distinctive voice in the indie community. The band's music, led and creatively driven by New England native, Rob Cimitile, is instantly-recognizable and easily-digestible due to Cimitile's whispery voice mixed with a traditional folk group's instrumentation, periodically including bluegrass instruments such as banjo and mandolin. "I Am A Tidal Wave" ranges from familiar Americana melodies and rhythms to a love song led by a ukelele and harmonies reminiscent of the Beach Boys' doo-wop days. Overall, this album impressively covers a wide range of musical ground in a short (20 minutes) amount of time, without ever seeming stale in its musical ideas.
"I Am A Tidal Wave," the record's third song, uses traditional bluegrass instrumentation, analogous to some of Bright Eyes' moments. Although the song starts out firmly planted in bluegrass territory, Cimitile's composition soon transforms into a reverb-heavy chorus section, ultimately leading into an ambitious progression ending with the powerful strikes of a diminished chord. The album's final track, "Schizophilia," is a typical love song with atypical lyrical themes. Being held together by a ukulele and harmonies originally written 50 years ago, this track exemplifies Builder of the House's genre-blending songwriting methods. The track is very easy to listen to and undeniably a pop tune, yet it is original in the sense that it blends elements of genres that we don't often see put together, and its accessibility destines it to be an anthem of love in the indie community. Cimitile's warm voice especially shines through on one of the standout tracks, "Fire Dawn Breaking," with the help of equally warm production, complimenting his vocals flawlessly. Beginning as a tune sounding straight out of a 1960's Western movie, "Fire Dawn Breaking" uses a conventional melody to build into something particularly unconventional. Cimitile's individual flavor, using distinct imagery and production, truly sets him apart.
All songs on I Am A Tidal Wave were written, recorded and produced by Rob Cimitile. The album was mixed by Noah Cole at Artifex studio and Brian Coombes at Rocking Horse Studio and mastered by Alan Douches at West West Side Music.
Empire Dine & Dance
Builder of the House will be celebrating their CD release at Empire Dine & Dance
Thursday May 31st
575 Congress St
Portland, ME 04101
Tickets: $6 - https://holdmyticket.com/checkout/event/113964
8:30 pm doors/9:00 pm show
21+
You can learn more about Builder of the House at http://www.builderofthehouse.com
For any further information/interviews/exclusives please contact Melissa Zeigler(at)Powderfingerpromo(dot)com.