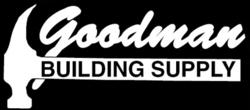 We'll celebrate both our anniversary and county re-certification by putting our 5,000th green product on the shelves during our anniversary month of May
Mill Valley, CA (PRWEB) May 04, 2012
It seems like only yesterday when Goodman Building Supply began its campaign of "50 Years of Building a Community" in Southern Marin County. That campaign was aimed at celebrating the hardware store's half-century anniversary, and seven years later, that campaign is alive more than ever. Now celebrating 57 incredible years in business, Goodman Building Supply, the go-to store for building materials and construction supplies in Marin, has re-attained its status of being a County Certified Green Business, a designation received in 2008 when Goodman's staff worked hard to make it the first certified green hardware store in Marin. The same dedicated staff worked just as hard to once again meet those requirements.
"We'll celebrate both our anniversary and county re-certification by putting our 5,000th green product on the shelves during our anniversary month of May," Zviki Govrin, of Goodman Building Supply, said. "Clients can log onto our new website http://www.GoodmanBuildingSupply.net for coupons and other valuable information."
May also means Memorial Day savings on selected ACE items.
Goodman Building Supply is now open for contractors beginning at 6:45 a.m. Monday through Friday and 7:15 a.m. every Saturday. The contractor fast lane counter is closed on Sunday.
"Our knowledgeable and welcoming staff strives to not only help you find the products you need, but make each customer a top priority," Govrin said. "We know a happy customer is a repeat customer, and through dedication and superior service, we're sure to meet all of your needs with ease. Let our hub of building and construction supplies save you time and money."
For more information about Goodman Building Supply, which is located at 775 Redwood Highway in Mill Valley, call 415-388-6233 or view the hardware store on the web at http://www.GoodmanBuildingSupply.net.
About Goodman Building Supply
Goodman Building Supply is a Marin hardware store that specializes in an array of building materials, construction supplies and home improvement resources. Its services consist of, but are not limited to, key cutting, glass cutting, garden services, barbeque delivery and assembly, pipe cutting, lamp repair, lumber service, color matching, paint services and pool/spa water testing.