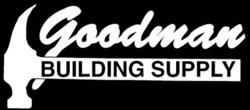 Mill Valley, CA (PRWEB) May 22, 2012
Goodman Building Supply, a construction supplies and hardware store serving Marin and the surrounding communities, is pleased to announce that it now carries the latest and most energy efficient line of LED tube lighting available.
The VIRIBRIGHT© line of T8 LED tube lighting by Matrix Lighting is now available in 2-foot and 4-foot strips, and is the perfect solution for replacing high-energy fluorescent lighting in all residential and commercial applications.
The lighting comes in standard and high power and is affordable, very bright, uses 80-percent less energy and lasts up to 25,000 hours. It is also mercury free, recyclable and comes in three colors--warm, cool and daylight.
The lighting meets the requirements of the DOE Caliper Lighting Facts Partner Program. It is also supported by the Green Building Council, Green Energy Council and the American Lighting Association.
In addition to VIRIBRIGHT, Goodman's Building Supply is also announcing the expansion of its drip irrigation department with a variety of new systems that can meet the needs of everyone, from professionals to homeowners.
In Goodman's hardware department, a new, more professional line of Craftsman™ tools has been added to meet the needs of contractors and trades customers.
Goodman Building Supply is now open for contractors Mondays through Fridays at 6:45 a.m. and Saturdays at 7:15 a.m. The contractor fast lane counter is closed on Sunday.
For more information about Goodman Building Supply, which is located at 775 Redwood Highway in Mill Valley, call 415-388-6233 or go view the hardware store on the Web at http://www.GoodmanBuildingSupply.net.
About Goodman Building Supply
Goodman Building Supply is a Marin hardware store that specializes in an array of building materials, construction supplies and home improvement resources. Its services consist of, but are not limited to, key cutting, glass cutting, garden services, barbecue delivery and assembly, pipe cutting, lamp repair, lumber service, color matching, paint services and pool/spa water testing.