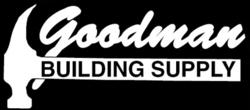 Now is the time to make sure you and your family are prepared for potential/possible disaster-related events, such as flooding or earthquakes
Mill Valley, CA (PRWEB) October 19, 2012
Goodman Building Supply, a Marin building materials store that is dedicated to environmental protection and safety awareness, recently participated in the Marin Municipal Water District Health and Safety Fair at the district's operations yard in Corte Madera.
"Because of Goodman Building Supply's dedication to water conservation, and our previous participation in the rebate programs of the Marin Municipal Water District, Goodman was one of a handful of Marin County businesses invited to showcase certain products that are essential in the work of most district employees," Zviki Govrin of Goodman Building Supply said.
The company featured health and safety items, including an assortment of first aid, roadside safety, work safety and earthquake safety products. Goodman Building Supply also had the opportunity to meet many of the 300 employees who attended the event.
To extend its commitment to safety and disaster awareness, Goodman Building Supply is currently offering a 15-percent discount on all of its disaster-related equipment. Customers can purchase important items that are essential in an emergency, such as flashlights, first aid kits and multi-purpose tools.
"Now is the time to make sure you and your family are prepared for potential/possible disaster-related events, such as flooding or earthquakes," Govrin said. "We're due for a potentially heavy rainy season, and the ground has shaken a few times recently up in Sonoma County."
For more information about disaster-related products, call Goodman Building Supply at 415-388-6233, view the hardware store on the Web at http://www.GoodmanBuildingSupply.net or visit 775 Redwood Highway in Mill Valley.
About Goodman Building Supply
Goodman Building Supply is a Marin hardware store that specializes in an array of building materials, construction supplies and home improvement resources. Its services consist of, but are not limited to, key cutting, glass cutting, garden services, barbecue delivery and assembly, pipe cutting, lamp repair, lumber service, color matching, paint services, and pool/spa water testing.