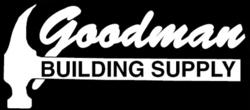 Join us for women-friendly vendor demonstrations and exhibits, refreshments, entertainment, flowers, and 20-percent off on all items in the store
Mill Valley, CA (PRWEB) August 09, 2012
During the month of August, the 57-year-old home of Goodman Building Supply--in its can't miss location off Highway 101 in Mill Valley--is being painted green to match its status as Marin County's first-ever certified green hardware store. Concurrent with the painting of the exterior, the parking lot is once again being re-surfaced.
Along with the facelift, Goodman Building Supply is also hosting a Women's Day on Aug. 22. For more than half a century, Goodman Building Supply has appreciated and recognized women's roles in purchasing its products and services for their homes, which is why the building materials store celebrates that appreciation with a Women's Day every August.
"Join us for women-friendly vendor demonstrations and exhibits, refreshments, entertainment, flowers, and 20-percent off on all items in the store," Zviki Govrin of Goodman Building Supply said.
The Marin construction supplies company holds a variety of special events and seminars throughout the year to help educate its customers about products and other matters. Goodman Building Supply has impacted the lives of countless North Bay families by answering a how-to question, locating a hard-to-find item, assisting in the drive-in lumber yard or getting something from the special order desk.
For more information about Goodman Building Supply, which is located at 775 Redwood Highway in Mill Valley, call 415-388-6233 or go view the hardware store on the Web at http://www.GoodmanBuildingSupply.net.
About Goodman Building Supply
Goodman Building Supply is a Marin hardware store that specializes in an array of building materials, construction supplies and home improvement resources. Its services consist of, but are not limited to, key cutting, glass cutting, garden services, barbecue delivery and assembly, pipe cutting, lamp repair, lumber service, color matching, paint services and pool/spa water testing.