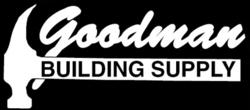 It's never too early to start preparing for winter, especially while the weather is so uncertain this Indian Summer in Marin, and prior to the beginning of the rainy season
Mill Valley, CA (PRWEB) September 25, 2012
As the first county-certified green hardware store in Marin, Goodman Building Supply is currently offering tips to help its customers prepare their homes and gardens for winter.
"It's never too early to start preparing for winter, especially while the weather is so uncertain this Indian Summer in Marin, and prior to the beginning of the rainy season," Zviki Govrin of Goodman Building Supply said.
To prepare for the upcoming weather, the Marin building materials store recommends the following tips:
1) Check stripping, gutters and windows, and close any gaps before the rainy season sets in.
2) Clearing the lawn now will make maintenance much easier when spring comes.
3) Disease-free annuals and vegetables that have finished producing can be composted. Enrich the soil by adding compost and soil-improvement products.
4) It is prime planting season for spring-blooming bulbs, wildflowers, lawns, cool-season flowers and vegetables, bare-root roses, and fruit trees.
"Now is the time to make sure you and your family are prepared for potential disaster-related events, such as flooding or earthquakes," Govrin said. "We're due for a potentially heavy rainy season, and the ground has shaken a few times recently up in Sonoma County."
A huge selection of disaster-related equipment is available at Goodman Building Supply, all at 15-percent off. Goodman Building Supply also has everything a homeowner needs for house weathering, as well as a huge selection of environmentally safe garden and nursery supplies and products.
Goodman Building Supply carries more than 5,000 green products in the store, adding more each month. Because of its dedication to being green, which includes its commitment to water conservation, it is participating in the Marin Municipal Water District's Health & Safety Fair in Corte Madera on Sept. 26.
For more tips on preparing for winter or professional recommendations for work, call Goodman Building Supply at 415-388-6233, view the hardware store on the Web at http://www.GoodmanBuildingSupply.net or visit 775 Redwood Highway in Mill Valley.
About Goodman Building Supply
Goodman Building Supply is a Marin hardware store that specializes in an array of building materials, construction supplies and home improvement resources. Its services consist of, but are not limited to, key cutting, glass cutting, garden services, barbecue delivery and assembly, pipe cutting, lamp repair, lumber service, color matching, paint services, and pool/spa water testing.